Jim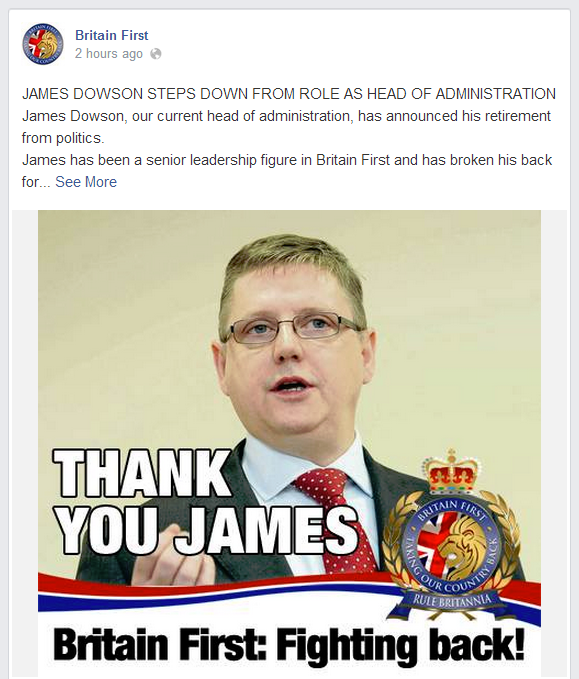 Dowson, the brains (and money) behind the far-right Britain First group, has resigned from the organisation and indeed from political life generally.
In a rambling resignation letter posted on the Britain First website, Dowson announces "my retirement from all political activities forthwith and my withdrawal from Britain First with immediate effect", a decision that he attributes to "recent political and personal events and family health issues".
In an accompanying statement, Britain First asserts that the state "persecution" Dowson has suffered in Northern Ireland has been exacerbated by a media campaign instigated by Hope Not Hate (described, bizarrely, as "the biggest far-Left group in the country") that has sought to "portray James as the 'evil genius' behind the 'far right' in Britain".
But another of Dowson's motivations for leaving the organisation would appear to be his disapproval of the "mosque invasions" that Britain First has been carrying out over the past few months:
"The media have put him under enormous pressure recently regarding our invasions of mosques across Britain and understandably this has forced Jim to distance himself from these activities, notwithstanding the fact that these mosque invasions have cause considerable exposure of issues such as Muslim female genital mutilation, second class treatment of women, extremism and grooming gangs."
Even Dowson, it seems, is embarrassed to be associated with a gang of thugs who think it's brave to barge into places of worship and harass elderly Muslims.
Judging by his letter, Dowson regards such stunts as a poor substitute for addressing "the root cause of our Nation's demise", which he identifies as a declining birthrate that has "left indigenous Britain an aging and dying country", along with the "destruction of the family unit", all brought about by "the liberal secularization this nation has suffered through the rise of atheist socialism these past 50 years otherwise known as 'cultural Marxism'".
Dowson adds: "Of course militant Islam is a threat to our future, we know that but Britain First was set up to tackle ALL the major issues that affect our people not just militant Islam. Even if every single Muslim left the UK tomorrow we would still be utterly doomed as a nation and a people."
Shortly after publishing Dowson's resignation letter, Britain First chairman Paul Golding uploaded a video in which he declares that Britain First has suspended its "tremendously successful" mosque invasion campaign and will be moving on to other things, including a return to its so-called "Christian patrols".
Golding concludes with the upbeat assurance that "we're going to get bigger and more successful". With Dowson no longer around to bankroll the organisation, you'd have to say that sounds over-optimistic.
Update:  See "Britain First founder quits over MOSQUE INVASIONS which attract 'racists and extremists'", Daily Mirror, 27 July 2014
Dowson told the Mirror: "No matter how many times I told him [Golding] I did not want decent Muslims intimidated, he just continued doing it. I have come to the conclusion that no matter how hard I tried, you cannot escape from the fact that the group is being overrun with racists and extremists. I think he is fooling himself and lots of people that Britain First is a Christian group. Sadly, it has just become a violent front for people abusing the Bible. I think they're becoming as much a problem as Anjem Choudary who they claim to oppose. They are just as bad as each other."