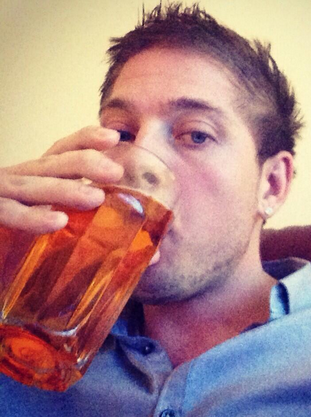 A football fan who ripped up pages torn from the Koran at a football match, and told a steward "we hate Muslims".
Middlesbrough fan Mark Stephenson, 25, was at an away game in Birmingham when he was handed pages of the Muslim holy book by a fellow supporter. He proceeded to rip up the pages, and gestured with a lighter as if he were about to set them on fire.
The "through and through fan", part of a group of 20 attending a championship game between Middlesbrough and Birmingham City, was asked by a steward what the book was. Stephenson, who had been drinking, replied: "It's the Muslim Bible, we hate Muslims."
Stephenson, a season ticket holder, was fined £235 by magistrates, who heard he was "shocked and appalled" at his own actions.
The £22,000-a-year purchasing manager from Shrewsbury, Shropshire, committed the religiously-aggravated public order offence last December. The court heard a female fan handed out the pages from her handbag during the match. Other fans were shouting and chanting at the time of the offence, and the words "Koran, Muslims and burning" were overheard by a steward.
Stephenson was also ordered to pay £105 costs and a £23 victim surcharge.
Prosecutor Jonathan Purser told Birmingham Magistrates' Court that Stephenson, who has no previous convictions or cautions, was seen with a lighter, apparently pretending to set fire to some of the pages.
Defence solicitor Ash Mistry told magistrates that his client, who also follows England abroad, had been drinking alcohol before the match and at half-time, and had very little recollection of his "inflammatory" actions.
The lawyer told the court: "He is in no way racist and he holds no racist views towards Muslims." Stephenson was deeply remorseful for what was an isolated incident, Mr Mistry submitted.
Magistrates decided not to impose a football banning order on Stephenson.
Passing sentence, chairman of the bench Ronald Healy said: "The incidents that we have had described to us are extremely unsavoury and extremely regrettable. We have looked at the references that have been provided by friends and your employer, and they do appear to confirm that you are generally of very good character, and that this incident is particularly out of your normal character."
He added: "It's lucky in some respects that nothing occurred as a result of your actions. Incidents of this kind are considered extremely offensive to some members of the community. We hope that in the future you will not ever, ever participate in any such incident."
Stephenson, who went to court with company of his parents, was on the verge of tears as he left the building without comment.
Two women from Middlesbrough charged in connection with events at the match both pleaded not guilty to a religiously aggravated public order offence. Pub worker Julie Phillips, 50, of Kenmore Road, and Gemma Parkin, 18, of Kimberley Drive, were bailed to stand trial at Birmingham Magistrates' Court on May 1.
---
Understandably, Stephenson is well pleased with the magistrates' leniency:

And it comes as no surprise that his Facebook likes include an English Defence League page: