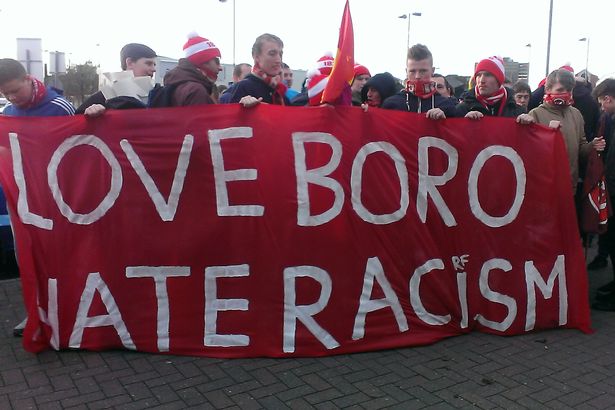 Middlesbrough fans staged an anti-racism march after allegations supporters ripped up copies of the Qu'ran during a match against Birmingham City.
Police are investigating claims a minority of away Boro fans ripped up copies of the Qu'ran – the holy text of Islam – during the team's 2-2 draw at St Andrew's last week.
Ahead of the home game against Brighton on Saturday, supporters' group the Red Faction staged an anti-racist protest march to the Riverside Stadium. More than 100 fans took part in the protest, chanting anti-racist songs.
Protester Darren Wardell, 41, from Acklam, said he felt a "bit ashamed" when he heard of the allegations and wanted to "come out and make up the numbers".
As reported, two Middlesbrough fans have now been suspended from matches while police continue to investigate the claims of what West Midlands Police described as a "hate crime".
A spokesman for MFC said the club would ban anyone convicted of the crime from the Riverside Stadium for life. He added the club operates a "zero tolerance policy" towards all forms of discrimination and is a strong supporter of football's pledge to "eradicate racism in all its forms".
Daily Mirror, 16 December 2013
See also "Boro supporters' group stage anti-racist protest after allegations 'minority' ripped up copies of Qu'ran", Evening Gazette, 16 December 2013
More photos here.