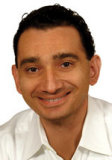 The incendiary words came flying out of an exuberant, cheering crowd, words exalting the rise of Islamic power in Canadian politics. Now they're being called an election smear that involves Islam and might have lasting repercussions for Muslims who have only recently become active in Canadian politics.
The fiery phrases, immediately attributed to Omar Alghabra – the rookie candidate who had just won the Liberal party nomination in Mississauga-Erindale – were soon making the rounds on the Internet, then became the subject of a news release from an outspoken group that seeks to expose radical Islam. "This is a victory for Islam … Islamic power is extending into Canadian politics," Alghabra was reported to have said.
The problem is that Alghabra and others who were there – including outgoing Mississauga MP Carolyn Parrish – insist he didn't say them. A Toronto Star reporter covering the event also heard no such thing.
Toronto Star, 23 December 2005
For earlier coverage, see for example here, here, here, and here.