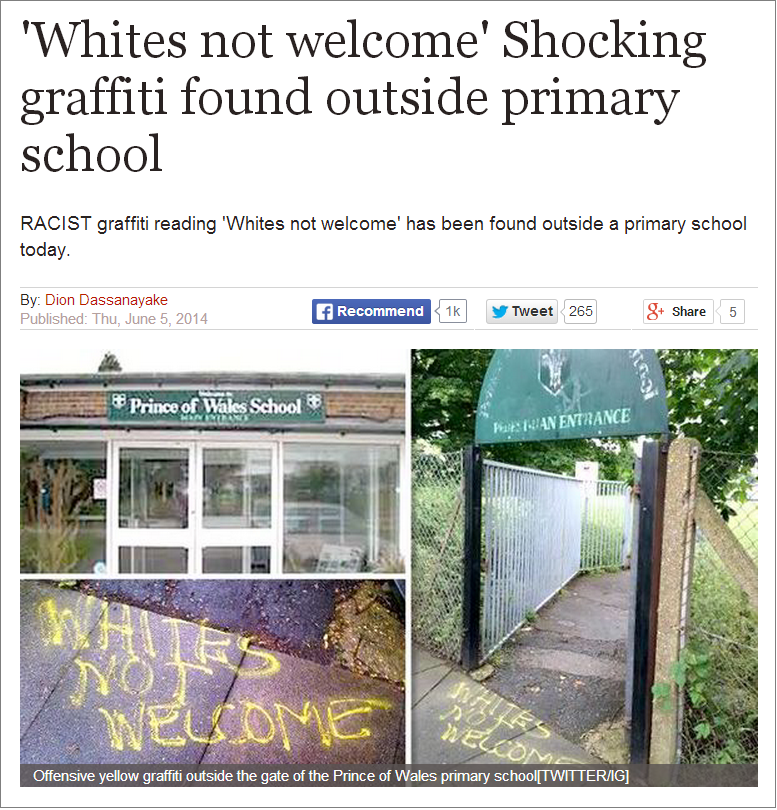 Express reports on the 'whites not welcome' graffiti – omitting to reproduce the accompanying anti-Islam and anti-migrant slogans
A concerned mother has hit out at media coverage of racist graffiti at her local school after a series of articles claimed that white pupils alone were being targeted by the slurs.
Coverage of the vandalism, which was left on the entrance path to the Prince of Wales Primary School, focused entirely on just one of the messages which said "whites not welcome."
But the mother who alerted the media to the graffiti has responded furiously to coverage by publications including the Daily Mail, Daily Express and Evening Standard who, she said, are creating "misconceptions and division."
Jasmin Nathan, who has two sons aged nine and six at the school, sent several images of the graffiti to a number publications, including the Huffington Post UK. She has now said that she is "very disappointed and angry" that only the one image has been widely circulated.
---
In the context of the other graffiti at the site, it seems clear that the "whites not welcome" slogan was a racist objection to supposed discrimination against white people rather than an anti-white threat. The coverage in the right-wing press, however, suggests the opposite. Needless to say, this interpretation has been seized on by the far right (see below).