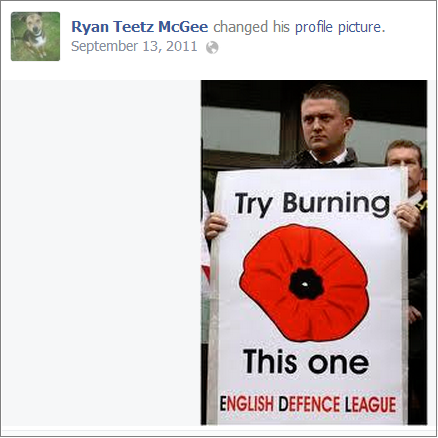 A soldier has been charged with terror offences after a nail bomb was found at a house in Eccles. Ryan McGee, 19, of Mellor Street, Eccles, has been charged with making explosives and possession of a document for terrorist purposes.
He was arrested in December after Greater Manchester Police raided his end-terrace house as part of a separate investigation and discovered the explosives. Alongside the homemade device officers also found a copy of The Anarchist Cookbook – a book published in 1971 containing instructions on the manufacture of explosives.
Mr McGee was serving with the armed forces with 5th Batallion the Rifles in Paderborn, Germany, at the time of the discovery. He was taken into military custody days later and flown back to the UK to be questioned by police. Mr McGee is now due to appear at Westminster Magistrates Court on Wednesday, April 2.
After the discovery of the bomb, a cordon was put in place by police and 30 residents were evacuated to nearby Lewis Street Primary School. Army bomb disposal officers were called in to remove the bomb.
Jane Stansfield, of the Crown Prosecution Service Counter Terrorism Division, said: "Following an investigation by police of the North West Counter Terrorism Command, we have today authorised charges against Ryan Adam McGee, a serving Rifleman with 5th Battalion the Rifles at the time of his arrest.
"It is alleged that between May 31 2012 and November 29 2013, Ryan Adam McGee had possession of a document or record for terrorist purposes, namely a copy of The Anarchist Cookbook. He has been charged with one offence contrary to Section 58(1)(b) of the Terrorism Act 2000. It is also alleged that Ryan Adam McGee, between September 1 and 30 2013 made an improvised explosive and has therefore also been charged with one offence contrary to Section 4 of the Explosive Substances Act 1883."
If guilty of the offences, Mr McGee could face a life sentence.
Manchester Evening News, 26 March 2014
See also "British soldier charged with terrorism and explosives offences over allegations he made a nail bomb and had a copy of bomb-making manual The Anarchist Cookbook", Daily Mail, 26 March 2014
Update:  See "UK soldier Ryan McGee admits making nail bomb", Islamophobia Watch, 3 October 2014