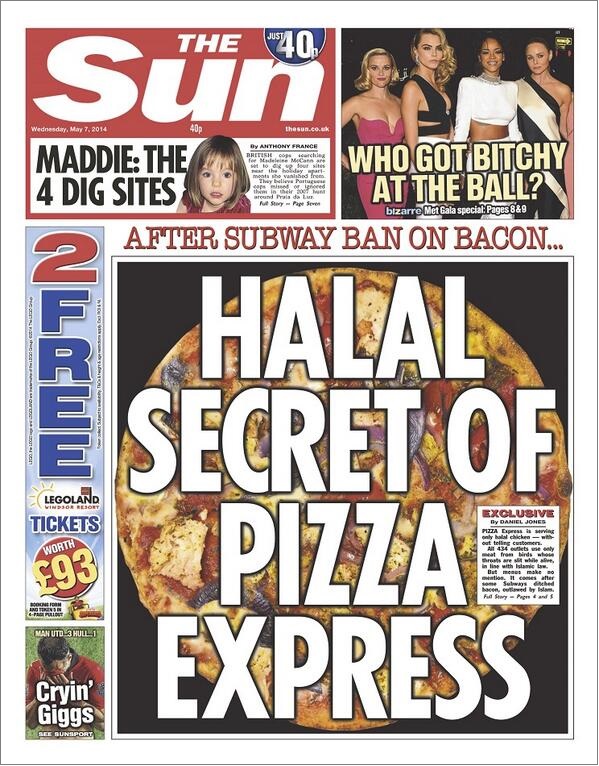 Halal secret of Pizza Express
— All chicken killed in line with Islamic law
— No mention of it on restaurant's menus
— Staff will only tell customers if they ask
— Comes after some Subways ditch bacon
PIZZA Express is using halal chicken in every meal that contains the meat – but customers only find out if they ask.
The chain decided to only serve chicken that is killed in line with strict Islamic law after feedback from Muslim customers. But diners are not warned in advance the chicken they will be eating is halal. There is no mention of it on menus and staff only tell customers if they ask.
Islam says chicken can only be eaten if the bird's throat has been slit while it is still alive. A verse from the Koran is also recited. Some non-Muslims object to halal because they claim the ritual killing can cause unnecessary suffering.
It comes after some Subways ditched bacon, outlawed by Islam.
At Pizza Express's 434 outlets popular meals such as Pollo ad Astra pizza, Pollo Pesto and the salads Chicken Caesar and Pollo Pancetta are all made with halal chicken.
A spokesman said: "Our chicken is halal approved. We serve halal chicken in all of our UK restaurants. Pizza Express is committed to animal welfare standards. As such the birds are stunned before being slaughtered. We are very happy to provide this information to our guests. We spend a lot of time listening to our guests and do our best to cater to their needs. Whether this means creating vegan-friendly pizzas or serving halal chicken, we take their feedback seriously."
But Colin Hart, director of The Christian Institute, said Pizza Express should be upfront about the meat it is serving. He added: "It's great that Pizza Express have shown sensitivity to Muslims. How about them showing sensitivity to people who don't want to eat halal food? I've eaten in Pizza Express many times but didn't realise halal meat was on the menu. Why are they hiding this? And why won't they give people a choice?"
Stephen Evans, of the National Secular Society, said: "Unsuspecting members of the public are routinely being duped into buying meat from religious slaughter methods. Meat should be properly labelled, enabling consumers to make an informed choice about the food they're buying."
The Sun last week revealed sandwich chain Subway had banned ham and bacon from 185 of its 1,500 UK outlets. Muslims are forbidden to eat pork products. These outlets now offer only halal meat.
The RSPCA said: "We recognise religious practices should be respected but we also believe animals should be slaughtered in the most humane way possible." Saqib Mohammed, chief executive of the Halal Food Authority, said the Islamic method of slaughter is not cruel if performed correctly.
Pizza Express helped parent firm Gondola Group turn over £604million last year – up four per cent on the previous year. Gondola also owns the Zizzi restaurant chain, which does not serve halal meat.
Pizza Express sources its halal chicken from a supplier accredited by the British Retail Consortium, but it refused to name them.
---
Cf. "Why the Sun's 'Halal Secret of Pizza Express' isn't a secret at all", New Statesman, 7 May 2014
And "'It's no secret': Pizza Express hits back at media claims over use of halal meat", Metro, 7 May 2014
Also "Chicken dishes at PizzaExpress", PizzaExpress Blog, 7 May 2014