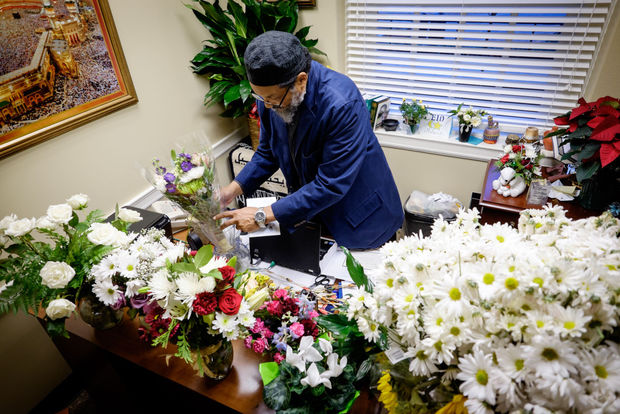 Wake Forest University is rallying behind Imam Khalid Griggs, an associate chaplain at the university who found a bucket of urine in front of his office on campus last month.
The Rev. Tim Auman, the university chaplain, said that the incident was regrettable, but the aftermath fostered a sense of unity. "It is, in many ways, bringing out the best in Wake Forest students, faculty and staff by creating opportunities for conversation, education and greater understanding," Auman said. "What speaks volumes is how the campus community has rallied in support of Imam Griggs."
In a statement released by the university, Griggs said he appreciated the support he received "in the aftermath of the unconscionable act directed at me."
The university released a picture Wednesday showing Griggs surrounding by dozens of flowers and cards sent to him from students, faculty members and Winston-Salem residents. "These deliveries," Griggs said, "often cause my eyes to water, especially when students, heretofore unknown to me, hand me cards or flowers while tearfully articulating their sorrow and regret that such an incident had occurred."
Auman described Griggs as a peacemaker and mentor and who supports Muslim life at Wake Forest. Griggs also serves as the imam of the Community Mosque of Winston-Salem on Waughtown Street.
Wake Forest University police are investigating the incident that occurred sometime between 5 p.m. on Nov. 7 and 8 a.m. on Nov. 10 when someone placed the urine at Griggs' office inside Reynolda Hall, according to a police report. Investigators initially treated it as a breaking and entering and vandalism to property, the report said.
Wake Forest police have no suspects, said Cheryl Walker, a university spokeswoman. Police Chief Regina Lawson couldn't be reached for comment Wednesday. Griggs declined to comment on the matter.
The incident first came to light in a letter from a former student that was posted Dec. 5 to the website of the Old Gold & Black, the university's student newspaper. The letter writer wondered why it took nearly a month before anyone knew what had happened to Griggs. "So how come you haven't hear about it until now?" the student asked. "How come someone who doesn't even go to Wake Forest anymore has felt obligated to make (the) campus aware because no one else would tell them?"
It was the latest in a series incidents involving issues of race, religion and ethnicity at WFU during the past four months.
Jibril Hough, a spokesman for The Islamic Center of Charlotte, wrote in an email that he has known Griggs for more than 20 years. "It's sad to hear that such a prestigious university as Wake Forest is showing signs of islamophobia and racial tensions," Hough said. "Unfortunately, America has supported a climate that allows many to feel they can disrespect Muslims in any way they choose and get away with it. Urine or feces would insult anyone if placed or thrown in anyone's direction," he said.
Ibrahim Hooper, a spokesman for the Council on American-Islamic Relations in Washington, D.C., said that the harassment of Griggs was motivated by someone's bias toward Muslims. He added that CAIR will ask the State Bureau of Investigation to review the incident. "It's kind a like a cross burning," Hooper said. "If you burn a cross in your own yard, it's not a hate crime. If you burn it in the yard of an African-American family, (then) it's a hate crime."
Winston-Salem Journal, 11 December 2014
See also "Editorial: Vandalism at Muslim chaplain's office must be condemned", Winston-Salem Journal, 11 December 2014