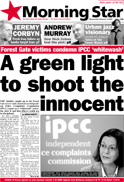 The families caught up in the Forest Gate terror raids attacked an Independent Police Complaints Commission (IPCC) report as a "whitewash" on Tuesday after it said that officers would not be disciplined.
The police watchdog criticised Scotland Yard's handling of the raids in east London last June and urged the Met to apologise publicly for its "very aggressive" tactics. But the IPCC claimed that the police had been justified in carrying out the raids and that officers would not be disciplined.
The families, in a statement issued through their lawyers, said that they had been the victims of a "crime of the utmost seriousness" and had been denied justice because of the failure to investigate that crime.
Mohammed Abdul Kahar, one of two brothers arrested in the raids, attacked the report as a "whitewash." Mr Kahar, who was shot during the raids, said that the report gave a "green light" to police to conduct anti-terror operations the way that they wanted.
He and his brother Abul Koyair were arrested and held for several days before being released without charge after officers found nothing in the two houses that they raided in Lansdown Road.
Mr Kahar said that he would have liked to see "some people getting prosecuted. "At the end of the day, a lot of people understand we were innocent families, we were not what they said we were. We have still not had an apology," he said.
Mr Kahar added that all that he had ever wanted was an apology from the police and recognition that "we are not terrorists, we are not a violent family. How can they justify saying the intelligence was right? The main criminal is the person who informed them. But they have never let us know who the informant is or what intelligence they had."
But Met deputy assistant commissioner Alf Hitchcock refused to apologise. "We have apologised on three previous occasions, to the community for the disruption we caused and, specifically, for the injury we caused in relation to this," he said. "I think we need to move on from apologising over and over again".
Morning Star, 14 February 2007
---
See also BBC News, 13 February 2007
And Victoria Brittain at Comment is Free, 13 February 2007
For the full text of the families' statement see Socialist Worker, 17 February 2007.