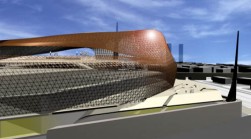 Controversial plans to build a "supermosque" on the doorstep of the London Olympics will be blocked by the Government.
The group behind the plans is Tablighi Jamaat, a Muslim missionary sect whose charitable trust, Anjuman-e-Islahul Muslimeen, has owned the 18-acre site since 1996. Tablighi Jamaat was called "an ante-chamber for fundamentalism" by French security services. Two of the July 7 London suicide bombers are believed to have attended one of its mosques.
A senior security source said that he was concerned about the proposed mosque, and expected ministers to use their powers to call in, and turn down, the planning application. The move was confirmed by a senior Government source, who said there were fears that the giant mosque could damage community relations in the area, and added: "We are going to stop it."
Alan Craig, a Newham councillor for the Christian People's Alliance party, has warned of the "community and security impact" that the mosque would have, and claims Muslims are already moving into the area in preparation for its opening.
Sunday Telegraph, 18 February 2007
Robert Spencer welcomes this example of "anti-dhimmitude in the UK".