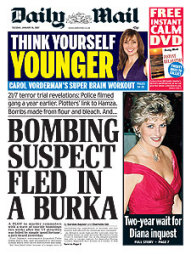 One of the alleged July 21 bombers fled London after the attempted attacks disguised as a woman wearing a burka, their trial heard.
Yassin Omar was captured on CCTV at Golders Green coach station in north London and at Birmingham coach station disguised in the traditional Muslim women's dress. He was picked up on the CCTV just a day after the attempted attacks, Woolwich Crown Court was told.
Prosecuting counsel Nigel Sweeney said: "CCTV shows him and his fiancee at Golders Green coach station and him at Birmingham coach station that evening disguised in the burka."
But if he was wearing a burka, how did they know it was him? Or am I missing something here? Still, any excuse to associate veiled Muslim women with terrorism, eh?