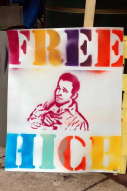 STOP THE ATTACKS ON MUSLIMS
ACT NOW TO STOP DEPORTATION OF HICHAM YEZZA
As the "war on terror" unravels, attacks on the Muslim community are increasing alarmingly. Almost every day the tabloid press carries scurrilous stories about Muslims. College authorities are suppressing Muslim groups and curtailing academic freedoms. Prominent intellectuals regularly denounce Islam. The government is trying to extend powers of detention without trial for 'terrorist suspects'. All this threatens to create a divisive and dangerous atmosphere in Britain.
What happened to Hicham Yezza and Rizwaan Sabir is a frightening example of where this official hysteria can lead. Yessir works at Nottingham University, where his friend Sabir is a student. When, as part of his research into political Islam, Sabir downloaded from the internet an Al Quaeda training manual, he emailed it to Hicham and – unable to afford the cost of printing – asked him to print it. The university authorities informed the police, who immediately arrested the two friends under the Terrorism Act.
They were held without charge for six days, their homes searched, their computers seized and friends and family interrogated. Upon release, Hicham was re-arrested under unrelated immigration charges. Although he was initially given a hearing date for 16 July, he was served with a deportation notice last Friday, which informed him he was to be removed on Sunday 1 June on flight BA894 from Heathrow to Algiers. Campaigners have been mobilising to prevent his deportation and last Wednesday held a demonstration at the University of Nottingham, attended by up to 500 people.
Stop the War is urging its supporters to support the campaign to prevent this deportation by:
1) Most urgently, using the model letter (http://tinyurl.com/4a6va7) or write one yourself and e-mail and/or fax it the Home Secretary Jacqui Smith before 5pm today. Quote Home Office reference number Y76064.
Jacqui Smith has the power to stop Hicham's deportation
* Telephone: 020 7035 0198
* Fax: 020 7035 0900
* Email: indpublicenquiries@ind.homeoffice.gsi.gov.uk
2) Before 5pm today, use the template provided by the campaign to fax the deportation centre where Hicham is being held: http://tinyurl.com/3w8sm7
FOR MORE INFORMATION AND TO CONTACT THE DEFENCE CAMPAIGN:
WEBSITE: http://freehichamyezza.wordpress.com
EMAIL: staffandstudents@googlemail.com
PHONE: 07948590262
UPDATE:  At 12.30 hours today, an application to the High Court in London was issued seeking a judicial review of the decisions of the Home Office in this matter. The removal directions set for Sunday 1st June have now been cancelled by the Home Office, and an application will be made to them this afternoon for Mr Yezza to be released while his case is reconsidered. David Smith, of Cartwright King solicitors in Nottingham, says "We hope and trust that the Home Office will now release Mr Yezza and reconsider his case properly and in accordance with the law; we will proceed vigorously with the High Court action unless they agree to do so."
Stop the Deportation of Hicham Yezza campaign press release, 30 May 2008
See also "Deportation plan to be reviewed", BBC News, 31 May 2008