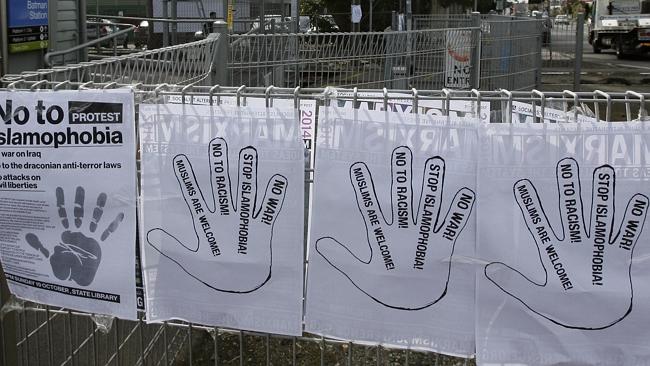 Muslim activists say they are seeing a "massive spike in racist attacks", prompting a rally this morning to stand against Islamophobia.
About 30 people gathered at Batman train station in Coburg, speaking to commuters about a sickening racial attack on an Upfield train last Thursday.
A Muslim woman, 26, was racially abused by an offender who then slammed her head into the wall of the carriage as it approached Batman station. Campaigner Yasemin Shamsili said the attack was a "consequence of a hysterical political campaign" which had vilified Muslims. "(This) will no doubt give more confidence to racists to come out of the woodwork," she said. "We have already seen a massive spike in racist attacks."
Another community activist, Vashti Kenway, said: "It is vital for Muslims and non-Muslims to fight for a genuinely multiracial Australia". She claimed "racist scaremongering" had created "a perception of terror that is not based on reality". "People in Australia at very little risk from terrorism," she said.
A mass rally will be held on October 19 at the State Library.
Police are still investigating last week's attack and hope to speak to two men who helped the victim on the platform at Batman station. The offender was described as a solidly built caucasian man, about 177cm tall with short brown hair.
Anyone with information is urged to contact Crime Stoppers on 1800 333 000 or visit www.crimestoppersvic.com.au.
See also "Socialist city councillor supports protest against racist bashing", Socialist Alliance, 30 September 2014