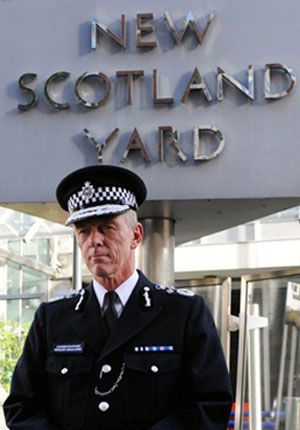 Bob Lambert, former head of Scotland Yard's Muslim Contact Unit and author of the soon-to-be-published Countering Al-Qaeda in London: Police and Muslims in Partnership, has some advice for the new Commissioner of the Metropolitan Police.
Lambert urges Bernard Hogan-Howe "to be as tough on far right terrorism, political violence and intimidation as his predecessors have been on terrorism and political violence associated with al-Qaeda and fringe Muslim extremists". With regard to the English Defence League, Hogan-Howe should "ensure that the group is treated as a threat to community safety, and repudiate colleagues and politicians who seek to excuse them".
"Most crucially of all," Lambert writes, "Hogan-Howe should be tough and brave in standing up to the Home Secretary in defending Muslim organisations and groups she has wrongly branded 'non-violent extremist'. He should support his police chief in Tower Hamlets who hails the Islamic Forum Europe (IFE) stewards and youth workers in Tower Hamlets as outstanding partners of police. By the same token, courage should be displayed in defending the outstanding work of Muslims in London who have helped to tackle the threat of al-Qaeda influence."
Excellent advice. We can only hope it is followed.