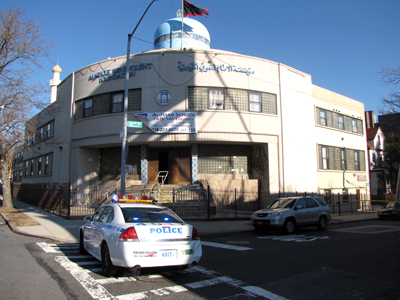 The unhinged Queens pyromaniac who unleashed a scary New Year's Day firebombing spree had planned to take out "as many Muslims and Arabs as possible" by lobbing Molotov cocktails at worshipers inside a mosque, prosecutors said.
Ray Lazier Lengend, 40, allegedly told cops he had planned to inflict "as much damage as possible" by hurling all five of his firebombs from the balcony of Imam Al-Khoei Islamic Center onto the crowd below. The hateful bomb-hurler, who is under psychiatric observation at Bellevue Hospital center, flat-out told detectives he did not like Muslims or Arabs, prosecutors said.
"This is a message to anyone who does this in the future," said Imam Maan Al-Sahlani, leader of Imam Al-Khoei Islamic Center, where Lengend planned to inflict major casualties. "It's a good message that justice will come for you, the police will come for you." The imam applauded prosecutors' use of the hate crime statute and hoped it would deter further anti-Muslim crimes. "Obviously there is something wrong with him," Al-Sahlani said.
Lengend, an unemployed truck driver from Queens Village, will face a judge via video arraignment Thursday from his bed at Bellevue. He faces 18 charges including arson as a hate crime and weapon possession for throwing Starbucks Frappuccino bottles filled with gasoline at four occupied Jamaica buildings – two of them places of worship.
New York Daily News, 5 January 2011
Cf. Robert Spencer, "NY mosque firebomber motived by 'personal grievances' – will Hamas-linked CAIR apologize?", Jihad Watch, 4 January 2011
See also Sheila Musaji, "Pamela Geller & Robert Spencer get NY mosque arson story wrong", The American Muslim, 4 January 2011