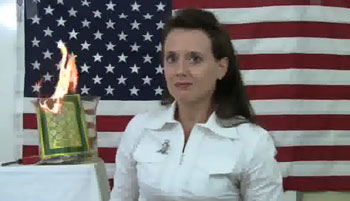 At her mildest, Ann Barnhardt appears on a poster, dressed in pink high-heeled shoes, toting a pink AR-15 semiautomatic rifle, standing side-by-side with a heroic portrait of Joan of Arc. At her most extreme, the slim, dark-haired woman with wide, bright eyes appears before an American flag, holding a copy of the Quran bookmarked with raw bacon, reading pages aloud, tearing them out and setting them ablaze in a large vase.
Barnhardt's tough, explicitly illustrated anti-Islamic message first played in Loveland in Sept. 20 at a meeting of the Loveland 912 Project. "She's out there. That's for sure," 912 Project chairman Tom Buchanan said. "I don't think we'll be asking her back again anytime soon."
Yet Barnhardt was scheduled, until a cancellation on Friday, to bring her presentation back to the region again tonight at a meeting of the Colorado Conservative Union, a group for which Buchanan also serves as chairman. He said Friday he had learned only recently that Barnhardt would return, and that he had not planned to attend tonight's event, having already hosted her at the 912 gathering.
"She's got some pretty strong convictions, and those strong convictions attract people," Buchanan said of Barnhardt. "These days, we're looking for leaders, no matter how wrong they might be. Maybe that bluntness that she has is what attracts people."
Barnhardt's appearance had been set for 6 p.m. tonight at Johnson's Corner Truck Stop and Café. But owner Chauncey Taylor, upon hearing about the speaker and her presentation, contacted the CCU organizers on Friday and canceled the event.
"I don't want anyone who is espousing violence, or inviting violence upon themselves, to be here," Taylor said after investigating Barnhardt's website and talking with event organizers. "My duty is to keep this a safe and uplifting place for our customers and employees. Anyone who is going to advocate violence is not welcome. That's not acceptable, not in my world, not in my house. If you're espousing hate, please don't come to my house."
Barnhardt, who described herself in an interview Friday as a "traditional, pre-Vatican II, Latin-Mass Catholic," rejects any distinction between Islamic extremists and Muslims in general. She said also that she rejects the notion that Islam is a religion, and that Muslims therefore enjoy First Amendment protection. "It's not a religion," she said. "It's a totalitarian political system. It is a seditious system, working against every government on the face of the earth."