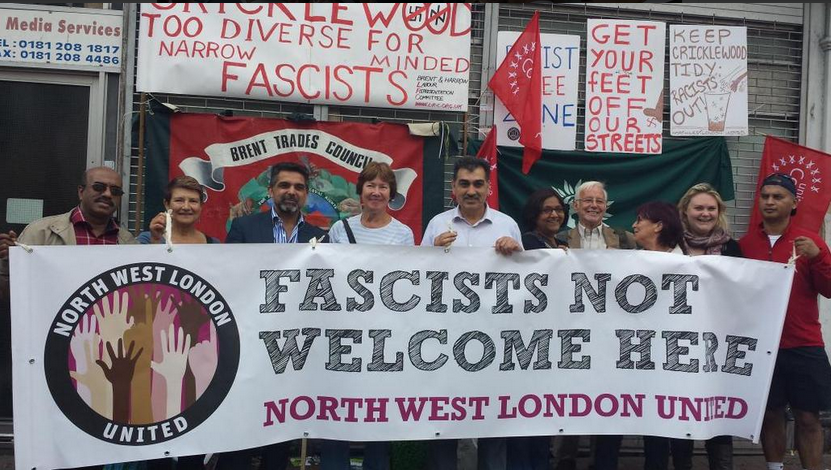 Today the far-right South East Alliance staged a demonstration in Cricklewood, for the third time this year. They claimed to be protesting against the Muslim Brotherhood, who were once supposed to have an office there. As before, a large number of anti-fascists turned out for a counter-demo organised North West London United, among them Brent Council leader Muhammed Butt and London Assembly member Murad Qureshi.
It wasn't looking good for the SEA, with a mere 15 "patriots" taking to the streets to resist the threat of Islamo-fascism. Having eventually managed to drag themselves out of the pub, they gathered on Cricklewood Broadway shortly after 1pm and seemed rather uncertain as to why they were there, shouting about Muslim grooming gangs and Muslim paedos. What that had to do with the Muslim Brotherhood was unclear.
Things picked up a bit for them an hour or so later when SEA leader Paul Pitt/Prodromou arrived with some more supporters, bringing flags and a few sheets of A4 paper with the words "Ban the Muslim Brotherhood" printed on them. The SEA's banner was unfurled, featuring the slogan "One nation, one aim, one future" (presumably inspired by "Ein Volk, ein Reich, ein Führer"), alongside those of two other far-right groupuscules, the Scottish Defence League and Scottish Volunteer Force.
The SEA hung around for another hour, during which they shouted incoherent abuse at the counter-demonstrators and delivered a couple of speeches nobody but themselves could hear. They were then escorted out of Cricklewood under police protection.
Altogether there were a couple of dozen fascists at the protest, including Prodromou's pal, a veteran Nazi named Eddie Stamton (aka Stampton).
In 2011, at which time Prodromou was the English Defence League's Essex organiser, he took Stamton to an EDL demonstration outside the US embassy in London. This caused some embarrassment to the EDL leadership, who were forced to issue a statement declaring that "Eddie Stamton, and any other neo-Nazis, are not welcome at EDL demonstrations, and will be ejected whenever they are identified".
The SEA, by contrast, has no problems with publicly associating with notorious Nazis.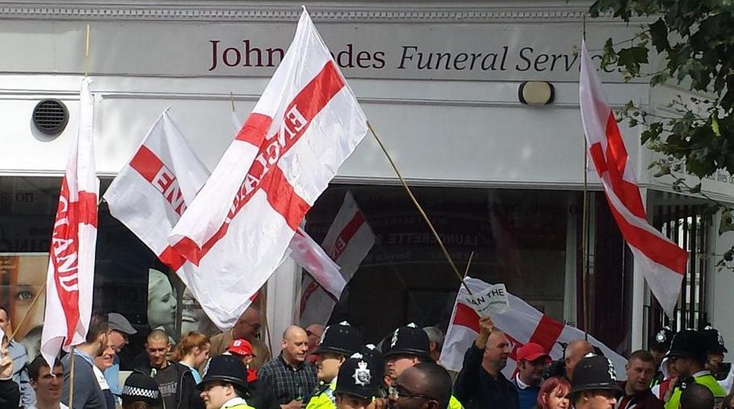 (Photos: North West London United)
Update:  See also "Cricklewood sees off pitiable South East Alliance fantasists", Wembley Matters, 30 August 2014
Update 2:  Hope Not Hate reports that another neo-Nazi, Eddie Stamton's friend Piers Mellor, was a participant at the SEA protest. Mellor can be seen here, second from the right, wearing a t-shirt advertising the Greek NSBM band Der Stürmer. Both Stamton and Mellor were prominently involved in a demonstration outside the Greek embassy last November in support of the Nazi party Golden Dawn. They can be seen here.
The man behind them in the flat cap, with his face hidden behind a scarf, is none other than SEA leader Paul Prodromou, as this photo from Hope Not Hate makes clear. But who is that shy young man next to him who also seems reluctant to show his face? Well, anyone who has witnessed the SEA's Cricklewood protests will recognise those glasses. They belong to an SEA member named Chris Reed, who was there again on Saturday, shouting abuse at a black photographer.
Some of those who joined the SEA protest responded vociferously to accusations of fascism from the counter-demonstrators, which they indignantly denied. Trying to be charitable, you'd have to conclude that they were unaware of the political records of the people who were protesting alongside them.