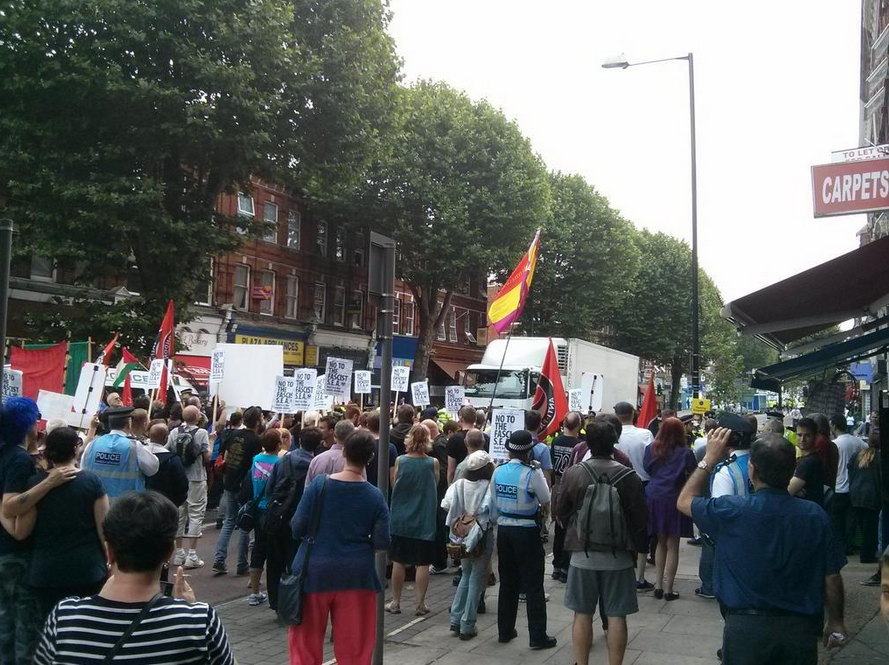 Having been humiliated by anti-fascists last month when they turned up in Cricklewood to stage a protest against the Muslim Brotherhood, the South East Alliance came back today for a rematch.
The dozen or so fascists that turned up (I counted 13 of them, although I'm told that at one point the SEA's ranks swelled to fully 14 "patriots") were put in a pen on Cricklewood Broadway, some distance away from the Muslim Brotherhood office they were targeting. They were confronted by several hundred counter-demonstrators.
After milling around pointlessly in their pen for a couple of hours, the SEA retreated back to Kilburn tube station under police escort. There were so few of them that they didn't even get to use the road and their "march" was restricted to the pavement.
The SEA, needless to say, claimed a victory over the left. Even their own supporters weren't buying that.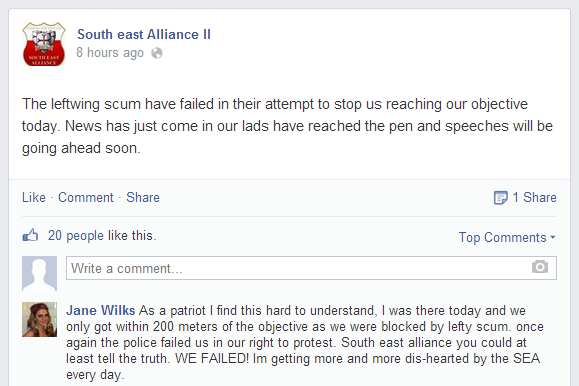 See also "Ultra-right SEA sent packing by united Cricklewood community today", Wembley Matters, 19 July 2014
Update:  See "Brent community unite to humiliate South East Alliance at Cricklewood protest", Kilburn Times, 21 July 2014
Update 2:  See "SEA in Cricklewood: Islamophobes face total humiliation", Searchlight, 23 July 2014