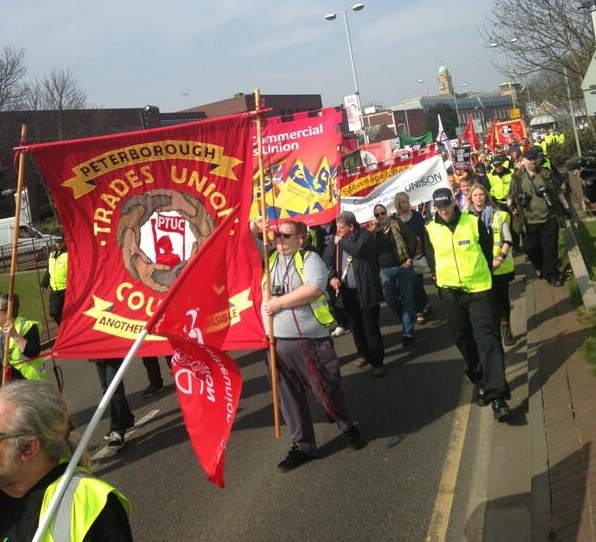 Crowds gathered in the centre of Peterborough as over 300 members of the English Defence League (EDL) marched through the city.
The EDL members, waving banners and chanting marched from the Peacock Pub in London Road to outside Peterborough Magistrates' Court in Bridge Street.
The march followed an earlier counter march by the The Peterborough Trades Union Council (PTUC).
Teams of police officers, some of whom had been drafted in from other counties, lined the EDL marchers as they walked towards the city centre. People lined London Road and watched on as the marchers headed towards a fenced-off area outside Peterborough Magistrates' Court. Here more crowds gathered and watched on as several members of the EDL made speeches and rallying cries which the EDL applauded.
During the speeches, there were a number of minor disturbances in the crowd and but only arrest was made – a 46-year-old man on suspicion of a public order offence.
Security and police blocked off the end of the fenced off area where the demonstration was taking place. Officers stopped EDL members who tried to leave the area, although it appeared some did manage to get out. As the demonstration finished, officers tried to keep the EDL together to march back across Town Bridge, but there were some stragglers at the back who went into town.
The march followed an earlier counter march by the The Peterborough Trades Union Council (PTUC) which started at 12.30pm in Bishops Road Park, and headed along Rivergate to the Key Theatre Car Park.
There were about 150 people in the PTUC demonstration, with people representing a number of unions and groups including UNISON, GMB, and the Peterborough Pensioners Association, with some banners from other towns and cities in the area. When the march started at 2.40pm, they marched through the city with loudhailers and whistles chanting anti-EDL slogans.
Once inside the car park, gates were shut at the entrance/exit of the car park, while music was played from the sound stage near the river. Ron Graves and Jo Rust then addressed the gathering from the stage.
As the EDL marched past, the PTUC gathered at the barriers at the front of the car park, again shouting anti-EDL slogans. A large number of people, including families, also gathered on Town Bridge to watch the demonstration go past. The PTUC demo finished as the speeches started at the EDL.
Peterborough Telegraph, 29 March 2014
(Photo of Peterborough Trades Union Council counter-demonstration: Tom Woodcock)
Update:  See Will Black, "EDL marchers and strange irrational rituals", Huffington Post, 31 March 2014