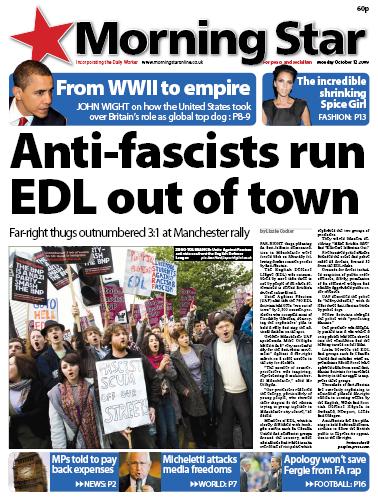 Far-right thugs planning an anti-Islamic demonstration in Manchester were forced back on Saturday following a mass counter-protest by anti-fascists. The English Defence League (EDL) was outnumbered by more than three to one by people of all races determined to defend Britain's diverse cultural mix.
Unite Against Fascism (UAF) said that the 700 EDL activists had been "run out of town" by 2,500 counter-protesters who occupied most of Piccadilly Gardens, destroying the organisers' plan to hold a rally and sing the national anthem on the spot.
Greater Manchester UAF spokesman Mike Gilligan hailed it as a "very successful day for the anti-racist movement" against a far-right march on a scale unseen in the city for decades.
"The number of counter-protesters was inspiring, representing a multicultural Manchester," said Mr Gilligan. "Our protesters reflected the energy, particularly of young people, who showed their disgust at the racists trying to group together in Manchester city centre," he added.
Members of EDL, which is closely affiliated with hooligan outfits such as Casuals United and neofascist groups around the country, made nazi salutes and traded insults over a line of riot police which separated the two groups of protesters. They waved banners declaring "Make Britain Safe" and "Extreme Islamists Out."
Five hundred police officers attended the scene and police made 48 arrests, around 32 from the EDL ranks. Grounds for arrest included suspicion of public order offences, affray, possession of an offensive weapon and racially aggravated public order offences.
UAF described the police as "heavy-handed," with at least three anti-fascists bitten by police dogs. Fellow activists charged the police with "protecting fascists." One protester was allegedly pushed into a van where a crisp packet had been shoved into the ventilation and the heating turned on full blast.
Links between the EDL and groups such as Casuals United and militant white supremacists Racial Force have sparked calls from some anti-fascist activists for increased activity in the struggle to suppress these groups. Thousands of anti-fascists are currently organising to neutralise planned far-right rallies in coming weeks by the English, Welsh and Scottish Defence leagues in Swansea, Newport, Leeds and Glasgow. Anti-fascists are also planning to hold a national demonstration to allow the British public to express its opposition to the far right.