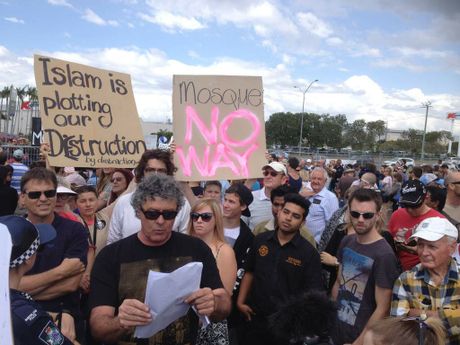 Anti-Islam campaigners have begun a hate mail offensive targeting Maroochydore residents.
An eight-page booklet detailing "the unpalatable truth" about Islam and Muslims has been left in letterboxes in an apparent bid to spread fear among residents.
Jacquie Dubois-Stanton, of Maroochydore, was left "shaking" and "disgusted" by the contents of the pamphlet, which includes claims that Muslims will "capture the Western world" in the next 50 years.
The letterbox drop follows a protest on Saturday by anti-mosque protesters [pictured]. Tempers flared as about 500 people, most of them opposed to mosque plans, faced off outside the proposed site on Church St, Maroochydore.
Mrs Dubois-Stanton said she had no doubts the booklet was not about informing the community, but encouraging people to revolt and become violent.
"I thought I was going to learn something about Islam when I saw it," the 80-year-old said. "But instead it turned out to be hate mail. This is trying to make people do something bad. They are trying to scare people. I felt like burning it when I saw it – but I decided I should stick my neck out and fight for what I believe in."
Ms Dubois-Stanton said she had seen a lot in her lifetime but opposition to the proposed mosque was one of the worst.
"I believe people need to be more tolerant and open-minded," she said. "People need to understand it's okay for people to believe different things. There are already two churches on Church St. What harm will it (the mosque) do?"
Restore Australia chief executive officer Mike Holt said he was aware brochures had been distributed to residents in the area. He said the letterbox drop was no doubt on the back of the anti-mosque protest held last Saturday.
"They (the brochures) are informative and they explain what Islam is," he said. "I think people who complain need to get a life. If they don't want to learn about Islam they should throw it away."
Mr Holt said the only way to make "informed decisions" was to read about it. "Information is what it is all about," he said.
Sunshine Coast Daily, 25 September 2014