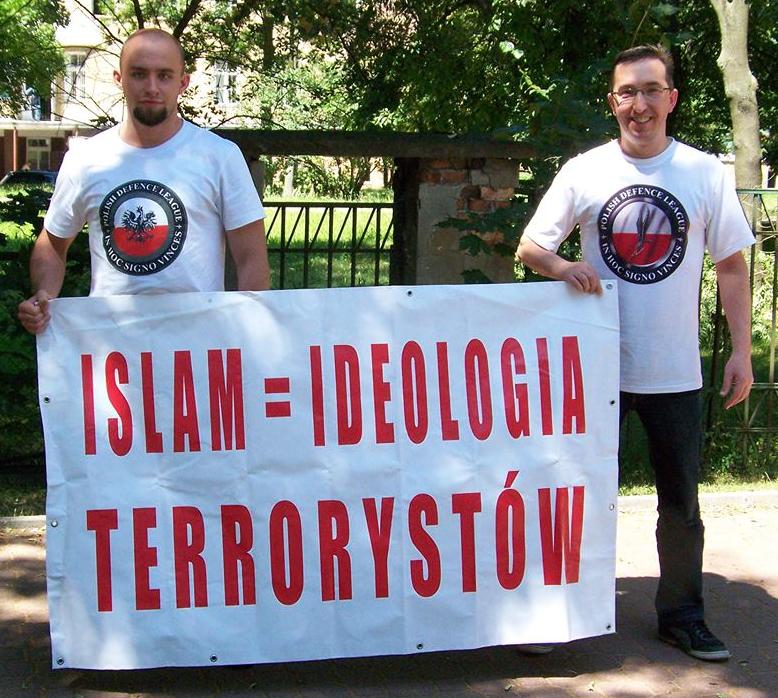 The far-right Polish Defence League (PLO) has launched "patriotic patrols" in Poland's bars and nightclubs in a bid, it says, to protect Polish women from being chatted up by Muslims.
The Polish Defence League, which describes itself as "showing the true face of Islam and acting against the Islamisation of Europe," started the operation in December in cities including Warsaw, Poznan and Krakow. "We are there to observe how Muslims behave and to intervene," the league stated on its official web site.
"In the space of one evening, in hundreds of places across the country, incidents occur involving the seduction of our female compatriots," the league claims. "This is a fight for the future of our country and our women," the PLO claims. "Because one of these girls, unwittingly charmed by an exotic prince could, along with her offspring, end up very badly in the Islamic world, which is advancing on us with great strides."
According to the PLO, which currently has 3600 fans on its Facebook page, Polish women are warned during the patrols about the "threats" of getting involved with Muslim men, the Gazeta Wyborcza daily reports.
Poland has one of the smallest Muslim populations in Europe, with current estimates between 20,000 and 40,000. The oldest community is of about 3000 Tatars, mostly based in villages in north east Poland.
The Polish Defence League models itself on the far-right English Defence League (EDL) which was founded in Luton, southern England, in 2009 – though the organisation, which claims 25,000 members in the UK, has been in some disarray recently after the resignation of its founder members Tommy Robinson and Kevin Carroll.
On the PLO web site, a post by 'Mr Niki' dated 2 January describes a visit to one club in Warsaw where the 'activists' – who were "defending the honour of Polish women" – observed what they describe as "Muslims" dancing with Polish girls. "We walked between the dancers and parted them. This was much more effective than simply talking to the ladies," the web site says.
Not all interventions were successful, however. "At around 3 am, one of the Muslims decided to try and seduce a beautiful but unfortunately extremely intoxicated girl. Later when she went to the restroom we waited outside and talked to her for around 15 minutes [about what she was doing] but the conservation did not end positively and she returned to her 'chosen one' even more submissively," the post continues.
In another post on an international anti-Islamist web site, the PLO warns Muslims, in English: "In Poland, there will be NO sharia law. NO headbanging or shouting Allahu Akbar in the streets. NO insulting our religion and our culture. NO burning cars like in France. NO burning down police stations. NO imposing your ways on us. NO calling us the sons of apes and pigs. If you do, we will be the ones waging jihad…on YOU!
---
The Gazeta Wyborcza report quotes a Polska Liga Obrony member as stating that "Muslims always, always look at women like hungry, primitive animals". The "international anti-Islamist web site" would appear to be Bare Naked Islam, which posted a link to a PLO video last July.