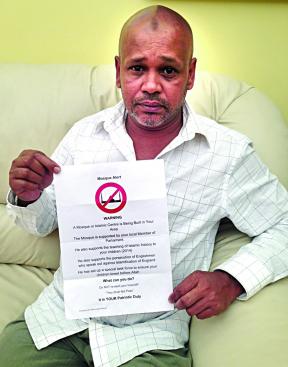 A man hoping to create a mosque in Chipping Norton said he was shocked and upset after receiving a "nasty" leaflet through his door.
As previously reported in the Journal, town councillor Tahirul Hasan hopes to open a Muslim place of worship in the town. The father-of-three was set to convert a shop in Hitchman's Mews into a mosque after securing planning permission in February.
But after the plans were approved, the shop's landlord George Wissinter received a sinister phone call threatening to burn it down if the plans went ahead and Mr Hasan's plans were left in tatters.
He had almost given up hope of finding somewhere but after speaking to David Cameron in his Witney constituency surgery, the Prime Minister said he would do all he could to support the venture.
Coun Hasan has now received a leaflet urging people not to re-elect Mr Cameron and warning residents about the "dangers" of allowing a mosque to be built. Entitled "Mosque alert" it says: "A mosque or Islamic centre is being built in your area" which is supported by "your local Member of Parliament." It adds Mr Cameron has "set up a special task force to ensure your children kneel before Allah".
Coun Hasan said: "So many people have come to me and told me they've received a nasty leaflet. I'm shocked. I think 96 per cent of people agree with the prayer room. I'm worried about the sort of people who work behind the scenes [to disrupt the plans]. Why can't they come to ask me what's going on?"
Coun Hasan's daughter Khudeza, aged 22, said the leaflet was a concern. "What gets me is this whole stereotype view by building a mosque, there will be a break in the community," she said. "This is not the intention at all. It's just five times prayer a day, for only a few minutes. It's just supporting the small Muslim community. People are getting the wrong message."
Cotswold Journal, 17 October 2013
---
Update:  See "PM condemns Chippy anti-mosque leaflet", Cotswold Journal, 17 October 2013
After reading a copy of the leaflet, David Cameron said: "I condemn the 'Nationalist Alliance' for appalling behaviour, scaremongering and seeking to divide our community. I support Muslims in Chipping Norton having somewhere to pray. The idea that this means ensuring 'your children will kneel before Allah' is ludicrous. People in Chippy will see through this sort of nonsense."
The leaflet, which is reproduced below, would appear to have been downloaded from this far-right site.