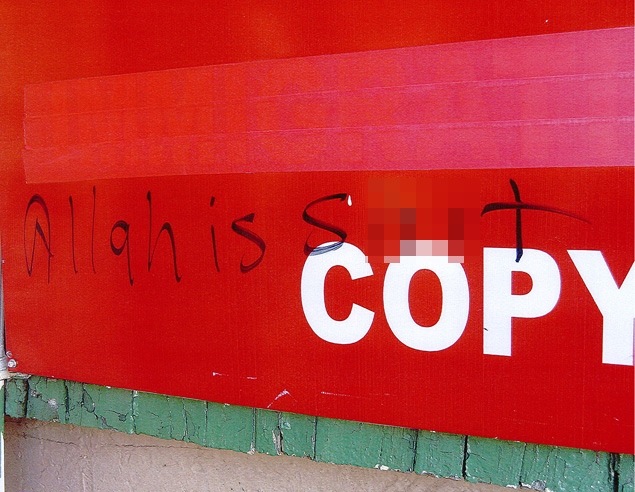 Bangladeshis in Kensington said they are living in fear after Muslim hate graffiti was found on a storefront in the neighborhood's bustling shopping strip.
The manager of TDS Insurance on Beverly Road near McDonald Avenue, came to work Monday and spotted a nauseating sight: "It was written on the outside – 'Allah is s–t'," said Abu Chowdhury, 51, who immediately called the cops. "I have no enemies," he said. "We are not a religious business."
Although the hateful message was erased hours later, Bangladeshis said the sight left them emotionally scarred. "It is just shocking," said Mamnunul Haq, a Bangladeshi community leader. "No one wants to see anything like that." "We are a very peaceful people," Haq added.
Kensington is one of the most diverse areas in the city – home to a Muslim stronghold mainly comprised of Bangladeshis and Pakistanis, living among Mexican families and Orthodox Jews.
Bangladeshis joined their Hasidic neighbors in July during the search for Leiby Kletzky, the 8-year-old boy who went missing in Borough Park and was later found dead. They also blasted the vandal or vandals who painted a half dozen swastikas around Midwood last month. "It happened in the Jewish community. And now it is happening in ours," Haq said.
Hoping to quell the growing anxiety, Councilman Brad Lander (D-Kensington) held a meeting Wednesday night with Bangladeshi, Jewish, and Latino residents discussing ideas about how to prevent future hate crimes in their hood. Lander wants to put a set of trees and benches in front of TDS Insurance, calling it "Kensington Plaza," serving as a mixed race meeting spot. "In the face of hatred, this community is coming together," Lander said. "When these things happen, you have to stand up."