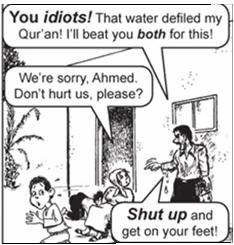 Leaders of Canberra's Muslim community were surprised and saddened by offensive anti-Islamic pamphlets distributed to homes throughout Queanbeyan over the Christmas holidays.
Householders in Queanbeyan received the material depicting a Muslim man physically abusing a woman and a child and an Islamic elder condoning the violence as acceptable to his faith.
One local Muslim leader has questioned the legality of the material and said it was un-Christian to distribute such offensive literature.
The pamphlets were published by Chick Publications, a United States-based evangelical company.
The company has been listed as a hate group by US civil rights organisations, and it is believed they were delivered to Queanbeyan homes by hand. The distributors did not identify themselves and several church groups in the town denied responsibility.
The pamphlet, entitled Is Allah Like You?, depicts an Islamic man who abuses his wife and son until he converts to Christianity and learns the error of his ways.