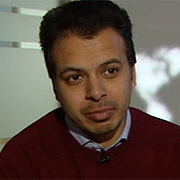 The battle for the hearts and minds of young Muslims in London is being lost because the vast majority of imams that practise here cannot speak English, leaving a vacuum that jihadist groups ruthlessly exploit.
So says Ed Husain, 34, co-director of the counter-extremist think-tank Quilliam and himself a "reformed jihadi" who knows what it's like to be young, impressionable and subject to unchallenged Islamist rhetoric.
In London, he singles out the huge East London and Regent's Park mosques as being of particular concern. "Hizb-ut Tahrir, an organisation which refuses to condemn suicide bombers, still holds meetings inside Regent's Park Mosque every Saturday, despite widespread public protest but the imam there, a foreigner, does nothing to stop it," says Husain.
"And at the East London Mosque, which has thousands of congregants, the main imam is a guy who trained in Wahabist Saudi Arabia. One of their trustees, Azad Ali, employed as a civil servant, was recently suspended from his job at the Treasury because he suggested killing British troops fighting in Iraq is justified.
"And in their bookshop there are volumes such as Milestones which is known to be Bin Laden's bible. It has chapters entitled 'the virtues of killing a non-believer' and argues that 'attacking non-believers in their territories is a collective and individual duty'."
Husain, living in Essex with his London-born Muslim wife, Faye, 30, and their 18-month daughter, Camilla, knows the East London Mosque all too well, he says. As a former radical activist for Hizb in charge of recruitment at Newham College campus in the 1990s, it was his stamping ground, but since he wrote his 2007 memoir The Islamist – about how he became a fundamentalist at 16 only to reject it five years later – it's too dangerous for him to return.
"I've received personal death threats from those quarters. I've had emails warning me that if I go back, I'll be whipped and hanged."
"When the death threats impact your family, it's extremely hard to take," he says. "Recently my wife was watching The Islam Channel on digital satellite television when a piece came on that was so full of hostility and hatred towards me that she fainted – clean passed out – from the shock."