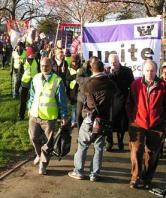 An attempt by the fascist British National Party (BNP) to hold a racist rally in Dagenham, east London, ended in its humiliation last Saturday.
Despite extensive leafleting in the borough, the Nazis only managed to attract around 70 people to their rally – and they were surrounded by over 400 anti-fascist protesters chanting slogans and jeering at them.
The anti-Nazi counter demonstration, called by Unite Against Fascism, drew a large, vibrant and diverse crowd of local residents, trade unionists, students and anti-racist activists. East London trade unions were particularly visible on the Unite demonstration, with banners from local branches of the GMB, T&G, RMT, PCS, NUT and Unison unions.
Richard Barnbrook, the leader of the BNP's 12-strong council group in Barking & Dagenham, struggled to make himself heard to the small crowd gathered in a car park near Dagenham civic centre. His words were drowned out by the chorus of anger and derision from anti-fascists. The BNP supporters eventually filed away, visibly downcast and uncomfortable.
Socialist Worker, 16 December 2006
See also Unite Against Fascism news report, 12 December 2006