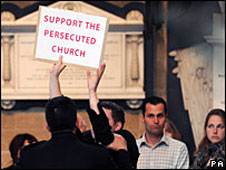 Two men who protested against adopting Muslim laws in Britain during an Easter sermon by the Archbishop of Canterbury have had charges against them dropped.
Kyle Spotswood, 26, and Sidney Cordle, 52, from Sheffield, were arrested after waving placards and shouting in front of the pulpit as Dr Williams spoke.
The men were bound over to keep the peace at Canterbury Magistrates' Court.
The Canterbury Cathedral protest came after Dr Williams spoke about the UK adopting aspects of Islamic Sharia law.
Mr Spotswood, of Dagenham Road and Mr Cordle, of Knowle Lane, were arrested in March after they interrupted Dr Williams' Easter Sunday sermon at the cathedral.
They stood in front of the pulpit shouting and waving placards which read "Support the persecuted church" and "No to Sharia law".
The men were charged under section two of the 1860 Ecclesiastical Courts Jurisdiction Act, which says it is an offence to disrupt a cathedral service.
Speaking outside court, Mr Spotswood said: "I would like to take this opportunity to issue a challenge to the Archbishop of Canterbury to take part in a public debate at the venue of his choice to discuss what should be the Christian response to Sharia law."
In 2006 Spotswood stood unsuccessfully for Sheffield council as a Christian Peoples Alliance candidate.