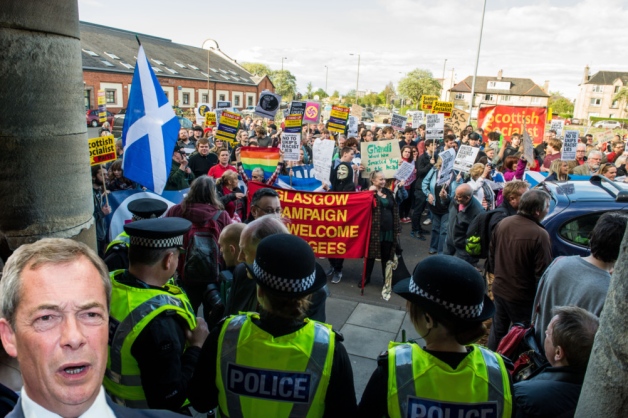 Nigel Farage's attempt to hold his first rally in Scotland last night saw a couple of dozen Ukip members outnumbered by hordes of protesters.
Mr Farage's launch of his Scottish European election campaign was dominated by 300 or so anti-Ukip campaigners who descended on Edinburgh's Corn Exchange in an attempt to upstage the right-wing leader.
Bearing placards with slogans such as "Stand up to racism and fascism", crowds gathered under Radical Independence Campaign banners.
Security was tight, after the last time Mr Farage made a public appearance in Edinburgh – when he locked himself inside the Canons' Gait pub on the Royal Mile to avoid a protestors outside.
This time, Ukip brought its own crew of bouncers to supervise the lock-in – in a venue which was once an Edwardian slaughterhouse. It was a tactic which brought flashbacks of the chaos of his last visit, even if Mr Farage did not suffer the indignity of being escorted off the premises in the back of a blacked-out police van.
A strict door policy was observed to spare the Ukip leader, his European candidate David Coburn and their followers from their detractors. There was an element of farce as the small band of Ukip supporters who arrived in dribs and drabs were told to wait outside to soak up the fury of the crowd.
A sizeable press corps was also refused entry, eventually only being allowed inside in small groups to interview Mr Farage.
A shiver of excitement ran through the demonstration when around half a dozen skinheads wearing polo shirts arrived on the scene. As the crowd moved towards them, the chant "Nazi scum off our streets" went up.
Crushed up against a pillar outside the Corn Exchange, it was then that The Scotsman was told that Mr Farage was ready receive the next batch of journalists. In a darkened room inside, he was asked how his reception compared with the one he got almost exactly a year ago.
"They (protestors) seem to be a bit more organised this time," was his reply. "They clearly have to have someone to hate.
"What they are saying is utterly misguided – completely unjustifiable," he added, referring to the banners accusing him of racism and homophobia.
"Anybody that had been to our rally two nights ago – and I invited our black and ethnic candidates to take the stage – would have realised that we probably have more diversity than some of the parties protesting."
See also "Hundreds rally against Farage in Edinburgh: 'Anti-UKIP, not anti-English'", Radical Independence Campaign press release, 9 May 2014