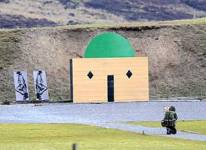 The Ministry of Defence has taken down structures resembling mosques that were used on its training grounds.
A spokesman for the Ministry of Defence said the mosque-like structures, which were put up at a firing range at Catterick to replicate the environment troops would be patrolling, were taken down prior to a meeting between a member of the military and the Muslim community.
He said: "A member of the military met the Council for Mosques in Bradford and had a discussion with them about it. What they claimed were the offending mosque structures were removed before that meeting."
Prof Mohamed El-Gomati, of the University of York, who advises UK universities and charities on religious matters, complained toThe Press about the structures last week. He described them as insulting and said they were evidence of the army's lack of consideration.
Stand by for right-wing denunciations of the "dhimmi" MOD.