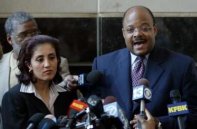 On June 16th, a federal grand jury indicted Umer Hayat, a Lodi ice cream truck driver, and his son Hamid on charges they lied to FBI agents. The two men were arrested on June 5th and accused of lying during interrogation about a trip Hamid took to Pakistan. The FBI gave the media a far more damaging version of the affidavit against Umer and Hamid Hayat than was finally given to a court in Sacramento.
The affidavit filed Thursday June 9th did not contain any of the sensational material from earlier in the week which said the son's "potential terrorist targets included hospitals and groceries, and contained names of key individuals and statements about the international origins of 'hundreds' of participants in alleged Al Qaeda terrorist training camps in Pakistan."
In response to the leaked FBI accusations Hamid Hayat's attorney stated, "my client and his son are only charged with one thing, and that is making a false statement. Though there are very alarming statements in the complaint concerning terrorist organizations … it's important to note that my client is not charged with being involved in terrorist acts. He has been painted with the brush of being a terrorist and he's not even charged with it."
Attorneys say they will challenge the government on this discrepancy, which they see as a deliberate move by the FBI to prejudice the case against their clients.