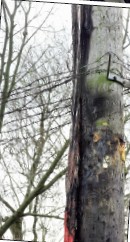 Arsonists who brought down a power line leaving 1,100 homes without electricity were trying to target a Muslim-run slaughterhouse, it has been claimed.
An electricity pole in Bradshaw Meadow, Hatton, has been burned down five times, including the latest attack early yesterday. Now the councillor for the area has voiced his concerns that the incidents are directed at a nearby abattoir, which produces ritually slaughtered halal meat. But Councillor Andy Roberts' claims have been denied by both the owners of M Najib and Sons, based in Miry Lane, Foston, and police investigating the attacks.
It took more than seven hours to restore power to all the affected homes after the latest blackout happened at 3am yesterday.
Councillor Roberts said: "We originally thought they were after the cables, but they have never taken any." He claimed the abattoir had its own generator, and therefore any attempt to target the company by cutting the power would have no effect. "They are morons, these people who have done it," Councillor Roberts said. "It's the elderly and vulnerable who are affected by it. They won't have had heating and some are stuck in their houses."
Western Power Distribution, which owns the power lines, said it had no record of cables ever being stolen from the scene of the arson attacks.
One of the owners of Najib and Sons, who did not want to be named, said he did not believe his business was being targeted. "We have our own generator on site," he said. "It doesn't affect us and people should know that." He confirmed, however, that his company had been the subject of racial abuse in the past. "We had threatening letters on racial matters, so I spoke to the local police," the businessman said.
Sergeant Jim Thompson, neighbourhood policing sergeant for Swadlincote, said that the force had previously investigated racist threats against the slaughterhouse, but said there was no evidence to suggest the arson attacks were linked to the business. "We have increased patrols in the area," he said.
Anyone with information is urged to contact Derbyshire Police by calling 101, or Crimestoppers, anonymously, on 0800 555 111.