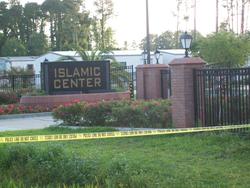 JACKSONVILLE, Fla. — People going in and out of a mosque on the Southside are having to pass through police.
The Islamic Center of Northeast Florida is under tighter security Tuesday morning following an explosion and fire the night before. The incident is under investigation as a possible hate crime.
Worshipers at the Islamic Center of Northeast Florida heard a loud noise outside the mosque shortly before evening prayers Monday night. "There was a blast outside and a couple of gentlemen got up, they opened the back door and there was fire," said Ashraf Shaikh of the Islamic Center of Northeast Florida. "I think we need to be more tolerant and understanding of each other."
Witnesses went outside and found some type of incendiary device started a fire. The fire was put out with a fire extinguisher. No one was hurt.
See also CAIR news release, 11 May 2010
Update:  See "FBI: explosion caused by pipe bomb", WJXT Jacksonville, 12 May 2010