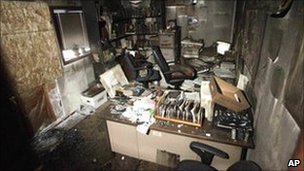 Someone set fire to an Islamic center on Sunday, two days after a man who worshipped there was accused of trying to blow up a van full of explosives during Portland's Christmas tree lighting ceremony. Other Muslims fear it could be the first volley of misplaced retribution.
The charges against Mohamed Osman Mohamud, a Somali-born 19-year-old who was caught in a federal sting operation, are testing tolerance in a state that has been largely accepting of Muslims. Muslims who know the suspect say they are shocked by the allegations against him and that he had given them no hint of falling into radicalism.
The fire at the Salman Alfarisi Islamic Center in Corvallis was reported at 2:15 a.m., and evidence at the scene led authorities believe it was set intentionally, said Carla Pusateri, a fire prevention officer for the Corvallis Fire Department.
Authorities don't know who started the blaze or exactly why, but they believe the center was targeted because Mohamud occasionally worshipped there.
"We have made it quite clear that the FBI will not tolerate any kind of retribution or attack on the Muslim community," said Arthur Balizan, special agent in charge of the FBI in Oregon.
Washington Post, 28 November 2010
Update:  See also "OR Muslims plea for safety after bomb plot arrest", Associated Press, 29 November 2010