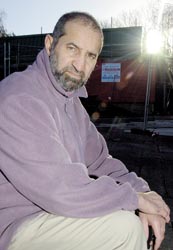 A Muslim group is refusing to return to its meeting place because members fear arsonists who burned down the building could strike again.
Triangle Community Centre in High Road, Langdon Hills, is ready to reopen, but Basildon Islamic Centre members say they won't go back becasue they fear they will be targeted by racists. Basildon Council has had the centre restored and improved with £7,000 of security, including fire-proof doors, CCTV and fire alarms, but the group has asked if its lease on the premises can be revoked.
Sarfraz Sarwar, head of the Islamic centre, said: "No one has been brought to justice for what happened and the culprits are still on the streets. Many members, particularly women and children, are terrified of more arson or racist attacks."
The group believe the fire was the work of racists who wanted to drive them out, because there had been two previous arson attempts on the building and some members were racially taunted.
Mr Sarwar added: "You could say they have got their way, because we are not going back, but we can't risk it and feel not enough has been done to catch those responsible." Mr Sarwar said he was also shocked the council had billed the group for the security measures when they were leaseholders.
He added: "We have written to the council saying we want help in finding an alternative premises." In the meantime, they are holding meetings at Vange Community Centre and in Mr Sarwar's home in Pitsea.
Council leader Malcolm Buckley said the group had four or five years left on its lease and was technically liable for a five-figure sum even if it moved out.
He said: "There was no firm evidence the arson was a racist attack, but under the circumstances we are likely to waive this fee, although legally they are liable. When you have a repair and maintenance lease you are liable for any improvements necessary for insurance reasons. The insurance company would not continue our cover without this work being done."
He added: "Like with any community group, we would strive to help with alternative accommodation, but with the amount of time they need it for it, it is unlikely there is any council premises suitable."