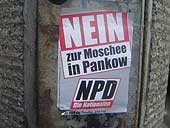 A squabble over construction of the first mosque in formerly communist East Berlin is becoming the latest flash point between Muslims intent on asserting a strong identity in Europe and Europeans increasingly fearful that their secular societies are threatened by Islamic fundamentalism.
Members of the Muslim congregation hope the soaring minaret of the planned mosque will become a local landmark. "People should not fear us," Iman Abdul Basit Tariq, the Pakistan-born leader of a flock of 200, said in an interview. "They should open their hearts to the beauty of Islam."
Instead, the neighborhood has fought the mosque with marches, candlelight vigils, and petitions. Residents have also filed legal complaints that could block construction.
"Ideas of suppressing women and hatred for democratic values will soon be disseminated in the heart of our community," said Roland Henning, a musician who lives half a block from the planned mosque. "And those of us who ask, 'Why?' are the ones being called intolerant and xenophobic. Europe isn't just surrendering its culture. It's surrendering any sense of logic."
"Why should we be giving welcome to a group that hates German values and considers Christianity to be its enemy?" asked Joachim Swietlik, spokesman for the group opposed to the mosque. "Our concern isn't based on their skin color or their countries [of origin]. It's based on their contempt for the ideals of our liberal-democratic society."
[Picture: poster by the far-right Nationaldemokratische Partei Deutschlands (NPD) who have been prominent in the campaign against the mosque.]