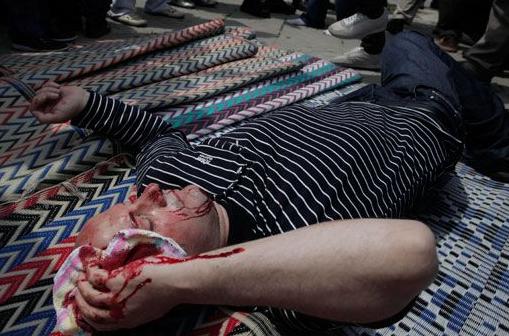 Victim of last Friday's attack on worshippers at the Banya Bashi mosque
Bulgaria's far-right and nationalist party Ataka is getting ready to stage a new protest rally during the Friday prayer at the Sofia Mosque Banya Bashi.
According to unconfirmed reports, Ataka, whose activists shocked Bulgaria by assaulting praying Muslims in the Sofia mosque last Friday during a rally protesting against the loudspeakers of the mosque, are getting ready for a new rally just a week later.
The Ataka party has not confirmed the reports. However, there are indications that the Sofia Municipality and Sofia Mayor Yordanka Fandakova, a representative of the ruling party GERB, who can technically ban the provocative rally, will adopt a hands-off policy.
The reason for that is that by banning the rally of the nationalist party Ataka, which is the only ally, though an informal one, of the ruling center-right party GERB, the Sofia Municipality might lead Ataka leader Volen Siderov to withdraw support from the minority government of Prime Minister Boyko Borisov.
GERB has 117 MPs out of 240, and Ataka's 21 MPs provide it with a comfortable majority, after the rightist Blue Coalition with its 14 MPs declared itself to be in opposition. One of the reason Borisov did not make a formal coalition with Ataka, in addition to his widely proclaim desire not to be dependent on coalition partners, is the protest of the European People's Party, of which GERB is a member.
Siderov has threatened Borisov he will stop backing the government unless the authorities took measures to investigate what he claims to be a "nest of radical Islamism" in the Sofia mosque.
Borisov himself and his party GERB initially denounced the actions of their ally; however, Borisov subsequently sought to downplay Friday's incident, saying that the nationalist party Ataka and the ethnic Turkish party DPS (Movement for Rights and Freedoms) are both going down the same road by seeking to pump up their electoral support through incidents with propaganda effect.
Bulgaria must consider outlawing the far-right and nationalist party Ataka over its recent attack on praying Muslims in Sofia, according to Guy Verhofstadt, leader of the liberals in European Parliament.
---
See also "European Parliament Liberals' leader: Bulgaria must ban far-right party", Novinite, 24 May 2011
Ataka used to be part of the far-right Identity, Tradition, Sovereignty (ITS) group in the European Parliament, until the withdrawal of the Greater Romania Party in 2007 reduced the ITS to below the 20 MEPs required to qualify as an official group. Ataka's allies in the ITS included the Front National, the FPÖ, Vlaams Belang and Alessandra Mussolini's Alternativa Sociale.
Update:  See "Bulgaria's far right on the defensive, vows to counter 'Islamist aggression'", Novinite, 24 May 2011
This states that Ataka have denied reports that they are planning another protest at the Banya Bashi mosque.