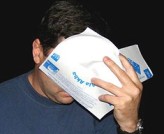 The Liberal Party has been hugely embarrassed over a campaign team caught delivering fake letters linking Labor with the Bali bombers. The grubby night-time operation in St Marys, in the seat of Lindsay, was busted by a squad of ALP sleuths who conducted a stake-out.
The letter appeared to be from a Muslim organisation, the Islamic Australia Federation. But the organisation does not exist.
The fictitious group was said to be backing Kevin Rudd because Labor supported forgiveness for "our Muslim brothers who have been unjustly sentenced to death for the Bali bombings". It also said Labor endorsed construction of a mosque in St Marys. "In the upcoming federal election we strongly support the ALP as our preferred party to govern this country and urge all other Muslims to do the same," the letter read.
It was clumsily worded and ended with "Ala Akba", a dismal attempt at the traditional Islamic salute of "God is Great" – "Allah Akbar".
Daily Telegraph, 21 November 2007
See also "Fake flyer meant as a joke: Lib MP", ABC News, 21 November 2007