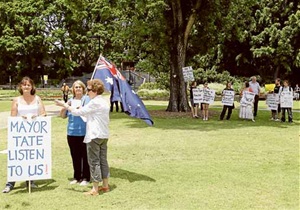 An anticipated vocal anti-Muslim protest was a non-event when only a handful of protesters turned out to Civic Park yesterday.
Anti-racism protesters overshadowed the rally organised by a right wing nationalist political party in opposition to a proposed mosque in Elermore Vale.
Organiser Nick Folkes denied the Australian Protectionist Party protest was race based. He said the political party was against extremist elements of Islam, not racist. "It is not about racism at all. We are careful about the way we draft policy issues," he said.
A flyer handed out by the four members of the party at the protest said the mosque would cause traffic and parking problems, 5am wake-ups, cause house values to drop and see many long-term residents leave the suburb as Muslims moved in, a process it termed "white flight".
Mr Folkes said the party did not support Islamic immigration in Australia. "We are creating problems through multi-culturalism," he said.
Mr Folkes said he was disappointed with the turnout to the rally but the party would continue to fight the proposed development. "The community action group [EV CARES] think they can achieve results in a non-political manner. The only way to resist is through a political vehicle," he said.
A small group of anti-racism protesters stood behind the party with signs saying "It's a cowardly racist who hides behind cars" – referring to the use of traffic issues by the group.
Elermore Vale resident Heidi McDermott, 24, spokeswoman for the anti-racism group, said they were there to promote freedom of religion. "I am proud to be Australian and it upsets me that the Australian flag is being used as a tool of hate," she said. "The flag does not just represent the white middle class. We are a multi-cultural society."
Spokeswoman for the Newcastle Muslim Association Diana Rah said the subdued protest was a credit to residents. "As the rally was held by certain individuals who based their opposition to the development on racial and religious bigotry, the poor turnout of support is a credit to the people of Newcastle," she said. Mrs Rah said the association would be happy to discuss genuine planning concerns with residents.