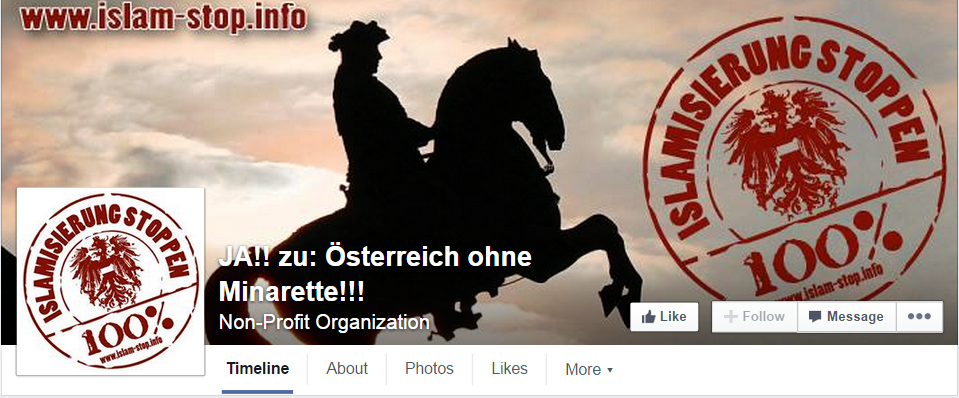 Two weeks ago an Austrian far-right activist, named by the Stoppt die Rechten website as Michael F., received a 5-month suspended prison sentence for incitement, as a result of anti-Muslim comments he had posted on the "JA!! zu: Österreich ohne Minarette!!!" (YES!! to Austria without Minarets!!!) Facebook page.
These comments included references to "Muslim scum" and to "Muslims who live here at our expense and only breed like rats".
Stoppt die Rechten points out that the "JA!! zu: Österreich ohne Minarette!!!" Facebook page has featured comments that are even more inflammatory than Michael F.'s , and notes that the admins have been urgently deleting them. It asks why the authorities have taken no action over this.
"JA!! zu: Österreich ohne Minarette!!!" was launched in 2009 by Robert Faller, a founder and leader of the now reportedly defunct Nationale Volkspartei. In 2012 Faller was given a suspended 18-month sentence for breaching Austria's constitutional ban on National Socialist activity.
Despite its clear neo-Nazi links, his Facebook page has attracted over 16,000 likes, including from prominent members of the Freedom Party of Austria (FPÖ), which claims to be a mainstream political party with no connection to fascism.
Earlier this year the Heimat ohne Hass (Home without Hate) website published a list of these FPÖ politicians. They included party leader Heinz-Christian Strache.