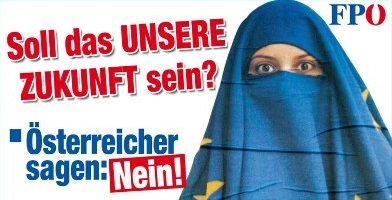 The Austria Presse Agentur reports that a proposal by the far-right Freedom Party (FPÖ) to introduce a law on the French model banning the "concealment of the face in public space" has failed to find a majority in the Austrian parliament.
Only the Team Stronach party supported the FPÖ's demand for an anti-'burqa' bill.
While the FPÖ MP Carmen Gartelgruber denounced the veil as "a symbol of the oppression of women", Nurten Yilmaz of the Social Democratic Party (SPÖ) questioned the feminist credentials of a party who had opposed changing a line in the national anthem that referred to Austria as the "home of great sons" to "home of great daughters and sons".
Maria Fekter of the Austrian Peoples Party (ÖVP) opposed a ban on the basis that the few women who wore the veil were mostly wealthy foreigners at the Zell am See tourist resort whose presence brought economic benefit to that region.
Alev Korun of the Greens rejected the FPÖ proposal on the grounds that it "helps not one single woman", and Nikolaus Scherak of NEOS said that the veil was not a problem in Austria and a ban would make no sense.
See also "Kurz opposes burqa ban", The Local, 10 June 2014
Update:  See "Burqa ban rejected by parliament", The Local, 11 June 2014