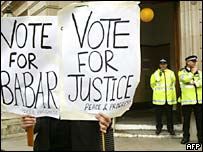 An unsuitable case for extradition
The argument that Babar Ahmad is a terrorist who should be handed over to the United States is highly suspect. Solomon Hughes reports.
Tribune, 17 June 2005
Home Secretary Charles Clarke must now decide whether to extradite British computer worker Babar Ahmad to the United States by July 15. Connecticut's district attorney says Ahmad used a website to raise money for Chechen terrorists and the Taliban. On May 17, Judge Timothy Workman ruled the extradition was in order, passing it to Clarke for a decision. However, in his judgement, Workman said: "This is a difficult and troubling case. The defendant is a British subject who is alleged to have committed offences which, if the evidence were available, could have been prosecuted in this country."
But while Ahmad has been arrested and investigated by British police, he has never been prosecuted in Britain. The Americans claim jurisdiction only because the "Azzam.Com" website in question had a US Internet service provider. Otherwise, all the offences they allege took place in Tooting.
Judge Workman added: "I have no doubt that the many and complex issues that have arisen in this case will need to be explored by the High Court which can review the decision.
The judge emphasised that he did not consider the evidence against Ahmad, who faces extradition under extradition laws introduced by David Blunkett after September 11. As Judge Workman made clear, under Blunkett's law: "The need for the United States Government to provide prima facie evidence to support the charges has been removed."
The judge also noted that Blunkett's extradition law contains "no reciprocal benefit to this country". While the law comes from a treaty between the US and Britain, the British cannot extradite US citizens in the same way, without evidence being tested in court. The extradition law is a one-way street because of what Judge Workman called "the failure to ratify the treaty by the United States."
Under the law, the judge could not consider the evidence and instead looked carefully at American guarantees that they would not send Ahmad to Guantanamo Bay, put him before a "military commission", "render" him to another country or apply the death penalty. The judge made clear that Guantanamo Bay or other options under US "Military Order Number One" were "inhuman and degrading", but accepted guarantees from the American Embassy that this would not happen.
The US evidence, untested in the British courts, tries to show that Ahmad did more than run Islamist websites and actually funded terrorists. Yet, an American man, who is supposedly Ahmad's co-conspirator according to the US case, was recently invited to dinner with President George Bush.
To show Ahmad's website was involved in fundraising, the Connecticut district attorney said a US citizen, Syed Maswood, had sent an email to the "Azzam.Com" website, then given cash to a charity linked to al Qaida.
However, Syed Maswood also gave cash to the Republican Party. He believes the April 2005 invitation to dine with Bush and serve as the "honorary chairman of the House Majority Trust" at the "2005 President's Dinner" was issued because of his previous donations to the Republicans.
Maswood contacted the Azzam.Com website in 2000 about the Chechen rebels. At that time, many other Republicans felt sympathy for Chechen fighters. Maswood then gave cash to an Islamic charity called the Benevolence International Foundation (BIF). This is presented as evidence of Babar Ahmad's terrorist fundraising. However, the donation was legal and even tax deductible.
After September 11, the FBI shut down the BIF and the charity's founder was sent to prison after admitting he gave some of the charity's money to the Bosnian military. He also gave boots to Chechen fighters. However, no link to al Qaida was proved and the judge said the charity's founder "does not stand convicted of a terrorism offence." Neither Maswood nor anyone else has ever been prosecuted for donating to the charity, even though American officials want to use his donation to prove Ahmad was raising money for terrorism.
Maswood makes an unlikely terrorist accomplice. He is a wealthy Bangladeshi American businessman who has enthusiastically embraced his adopted country, shortening his name to Ed. While Maswood has never been charged with any offence, when the American authorities linked him to Babar Ahmad, his house was raided by the FBI. He is now routinely stopped while trying to board flights.
Maswood says that simultaneously being invited to dinner with Bush and accused of playing a part in terrorism conspiracy shows how far officials have their wires crossed. He was also offered a chance to be photographed alongside Bush for a further donation of $25,000. He is fighting to have the allegation against him withdrawn, pledging: "I will keep on going till they lock me up or shut me up."
Babar Ahmad's wife, who has led a campaign against his imprisonment, asks: "Why have the British authorities taken this so-called evidence from America? Why not charge him here? If you think you've got some evidence on him, show it to us and charge him in this country."
Much of the evidence presented on the US charge sheet comes from British police searches of Ahmad's home. Human rights lawyer Louise Christian helped Ahmad get medical evidence to make a complaint of assault by British police officers during these searches. She says: "The jurisdiction issue is extremely dubious."
The US indictment says that at "all times material to the indictment, defendant Babar Ahmad was a resident of the United Kingdom living in London". However, the Americans base extradition on the fact that the Azzam.Com website was hosted by a Connecticut Internet service provider. This raises fears of "jurisdiction shopping".
While the British authorities have not prosecuted Ahmad, their American counterparts seem keen to use their broader laws. In one notable failed prosecution, the US argued that running political websites amounted to "material support for terrorism".
Azzam.Com was an Islamist website that reported on the fight of "Mojahedin" in Bosnia, Kosovo and Chechnya. It attracted little attention in the wider world, as sympathy for those fighting the Serbians and Russians was not seen as shocking. However, when Azzam.Com took the side of the Afghan Taliban regime, it was widely condemned. The site was shut down by its service provider after September 11. A parting Azzam.Com statement declared: "We did not condone the attacks of September 11, 2001. We refer to them in the same words of Taliban leader Mullah Mohammad Omar, 'acts of terror'."
Its statement insisted that the website did not break the law, adding: "We do not accept or pass on donations to any fighters."
Whatever the views expressed in the website, linking Ahmad to its publication does not constitute terrorism in British law. The fact that the British police did not charge Ahmad suggests they did not have evidence of money being collected for terrorism or for any terrorist conspiracies.