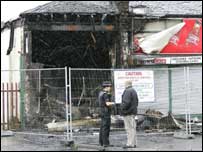 Fears of a backlash against Muslims are rising tonight in the wake of the car bomb plot. It came as a Pakistani-born Scotsman's newsagents was ram-raided and fire-bombed in Glasgow. Racial incidents rose in the days after the July 7 bombings and there was a similar backlash after the September 11 attack.
Tonight a prominent Muslim leader spoke of his fears of a "rising hostility" towards the Asian community. Osama Saeed, the Muslim Association of Britain's Scottish spokesman, made the warning as police launched an investigation into the attack on a newsagent's in the early hours of the morning.
In a chilling echo of the attack at Glasgow Airport on Saturday, a car was reversed at speed into the shop, crashing through metal shutters before the driver apparently dosed it with petrol and set it alight. As he fled – in a second vehicle with waiting driver – explosions ripped through the shop causing a massive fire.
Mr Saeed said: "This incident sounds very much like it is some sort of copycat crime, which is extraordinary because someone would have gone to the trouble of premeditating that attack. It is not an emotional reaction. They've waited, they've got the car and the materials. It suggests there is a rising feeling of hostility where people feel comfortable in the company of others acting in a grotesque fashion."
On Monday, fire bombers attacked what they thought was the rear of the Islamic Centre, in Bathgate, West Lothian. But they mistakenly damaged an adjacent estate agency.
Speaking of his fears of a backlash Mr Saeed said: "In some ways it was expected as there was a backlash after September 11 and 7/7. But we have got to stress to people we are in this together and we are all in the same boat. We have all been victims."