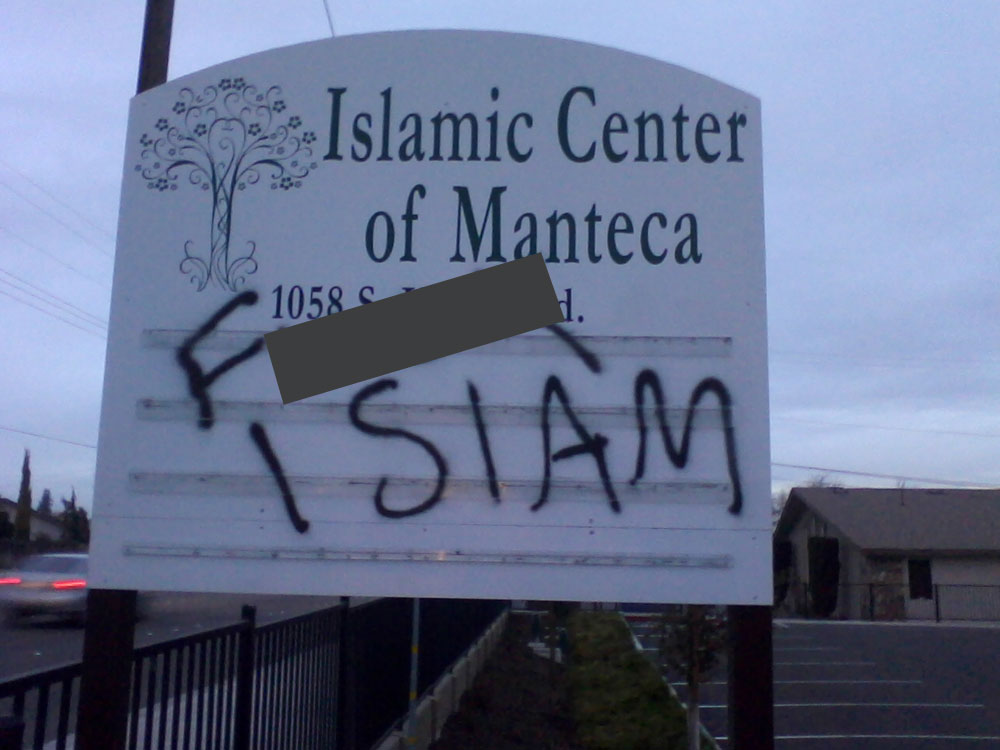 The Sacramento Valley chapter of the Council on American-Islamic Relations (CAIR-SV), the nation's largest Muslim civil rights and advocacy organization, today called on state and federal law enforcement authorities to investigate vandalism of a California mosque as a possible hate crime.
Law enforcement authorities in Manteca, Calif., are investigating strips of raw bacon and hate graffiti found on the grounds of the Islamic Center of Manteca last week as a possible bias-motivated crime. Hate graffiti sprayed on the mosque included "F*** Islam" on the facility's sign and on the ground near the entrance.
Last year, the mosque's sign was spray-painted with graffiti stating "No Allah, Only God."
"Because of the nature of the vandalism and the fact that the mosque has been targeted in the past, we urged state law enforcement authorities and the FBI to investigate this disturbing incident as a possible hate crime," said CAIR-SV Executive Director Basim Elkarra.
CAIR press release, 4 February 2014
See also "Hate mongers leave ugly mark on Manteca", Manteca Bulletin, 3 February 2014
Update:  See "Police say vandalism at Islamic Center a hate crime", Stockton Record, 4 February 2014