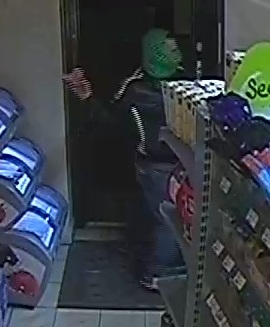 A hunk of raw bacon was thrown at a shop worker in what police believe was a racially-motivated attack.
The incident happened at the Pemberton Service Station on Ormskirk Road, Pemberton, at about 4.30am on Monday. The Asian attendant was working alone in the station when the door opened and the offender threw the slice of raw bacon. He then ran out of the shop and up Ormskirk Road towards Orrell.
The attacker was white, about 5ft 8 of a medium build and with short, dark hair. He was wearing a bright-green and black-chequered snood covering the lower part of his face and head, a black jacket with two white stripes down each arm and a white line under the arms. He was also wearing baggy light-blue jeans and dark trainers with white laces and a white rim around the bottom.
Police have now released a CCTV still and urged anyone who recognises the man to come forward. Police Constable Roy Lunio from Greater Manchester Police said:
"Because of the connotations attached to the meat and the fact it was deliberately thrown at an Asian man, we are treating this as a racially motivated crime. To target someone in this way, simply because of their religion or race, is utterly abhorrent and the offender should be ashamed of themself. This is not a prank, this is not funny or a laugh, it is a very serious and cowardly thing to do and we need to trace him.
"I would urge people to look carefully at the CCTV image and if you think you recognise the offender, please come forward. Similarly, if you know the culprit and you hear him bragging about what he has done, do the right thing and call us. We cannot allow members of our community to be targeted in this racist way, so please do what is right and come forward."
Anyone with information should call police on 101 or Crimestoppers on 0800 555 111.