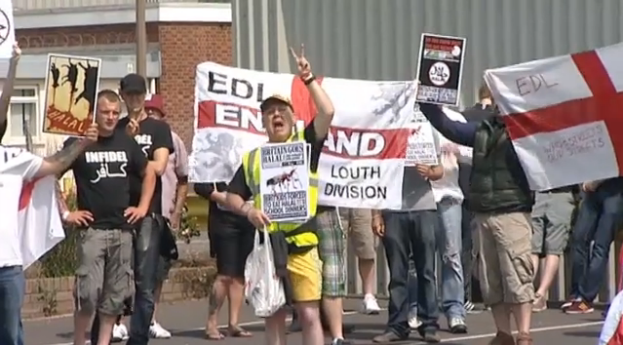 English Defence League protesting outside the Skegness abattoir last month
Speculation regarding the possible closure of a Skegness abattoir has been circulating the town after several notices from a bailiff company were seen pinned on the building.
However, a member of management for the halal slaughterhouse has claimed business will be "back to normal" tomorrow. "There was a dispute with the landlord. It's all sorted now; we will be working and back on Wednesday," said Mr Patel for Premier Halal Ltd.
Signs were put up at the Heath Road site on Friday, August 16 stating that Sloane Curtis Enforcement had gained peaceable entry of the premises/land and possession had been taken. But Mr Patel said that it has been closed for "just a few days" and it would open as usual tomorrow.
A landlord for the site confirmed that although there had been a "few issues", with a new business starting up, it was still there and open. The landlord also mentioned that Premier Halal Ltd were seeking approval from the government for new equipment.
The slaughterhouse, which opened in November 2012, has had a catalogue of political groups campaign against it. A Facebook group also hit out over its ritual slaughter practice. And far right groups such as the National Front and English Defence League have staged protests in the town.
Skegness Standard, 20 August 2013
The English Defence League will not be happy.