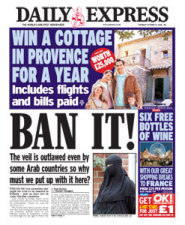 Pressure was mounting last night for veils to be banned in Britain – just as they are in some Muslim countries. And rebels plotting fresh court protests were given a blunt warning by lawmakers: "Carry on, and we will bar you."
The threat came amid a public outcry over the costs being racked up by teaching assistant Aishah Azmi as her lawyers, funded by taxpayers, continued their fight for her right to wear a veil in class. Daily Express readers responded in massive numbers to a poll on the crisis, with 99 per cent calling for the veil to be banned in schools, increasing pressure on the Government to act.
A ban would see Britain following many of its European neighbours, along with predominantly Muslim countries like Turkey and Tunisia in outlawing traditional Islamic headscarves in public schools and buildings.
Tory MP David Davies urged the Government to examine what other countries had done to discourage or outlaw the wearing of the full veil in public. "We should give it serious consideration too. It's been banned in many countries, including Muslim. The time may have come for us to consider the same thing," said the MP for Monmouth. "Tony Blair was right to say that it is a mark of separation. And what worries me is that it's a way of subjugating women."
Labour MP Ann Cryer, whose constituency in Keighley, West Yorkshire, has a large Muslim population, said she feared the high-profile Azmi case could spark a welter of copycat legal action by militants. And if that happened, she warned, legislation may be needed to enshrine in law a ban on veils being worn in classrooms and other civic buildings – which could mean on-the-spot fines and the withdrawal of state benefits.
Mrs Cryer said it was "totally unacceptable" to wear a full veil in front of young children and said an outright ban would be needed if people kept "pushing the boundaries" over the issue.