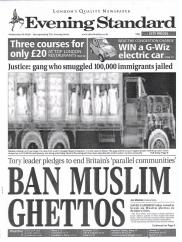 David Cameron today vowed to break up Muslim ghettos in Britain's cities. In the most frank comments on the issue by a major party leader, he used his keynote party conference speech to say Britain had made an error by allowing ghettos to develop.
"It worries me that we have allowed communities to grow up which live 'parallel lives'," he said in an extract of today's speech obtained in advance by the Evening Standard. "Communities where people from different backgrounds never meet, never talk, never go into each others' homes," said the Tory leader.
He said migrants should learn English because contact between people would overcome differences and "the most basic contact comes from talking to each other". Mr Cameron said that children should be taught "the core components of British identity – our history, our language, our institutions".
He went on: "We need to have contact. In many of our towns and cities, we have allowed ghettoes to develop. Whole neighbourhoods cut off from the rest of society. Immigrant families who only ever meet people with the same country of origin. We need to find ways to avoid this."
Evening Standard, 4 October 2006
Significant that, of all the issues dealt with in Cameron's speech, this is the one the Standard has seized on and advertised with a banner headline.