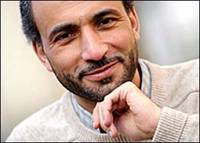 The lines between the Obama and Bush administrations appeared blurred this week after a lawyer for the government argued a ban should be upheld against the entry of Tariq Ramadan, a leading Muslim scholar.
A group of US civil rights organisations is suing on behalf of Mr Ramadan, the Swiss-born grandson of Hasan al Banna, the man who founded the Muslim Brotherhood in Egypt in 1928. He has been refused a visa several times since 2004 when he was offered a job at the University of Notre Dame, the renowned Roman Catholic institution in Indiana.
David Jones, assistant US attorney, told a federal appeals court it should uphold the ban or else the government would face a "quagmire" with others seeking reversals. "Consular decisions are not subject to litigation," he said. When Mr Jones was asked what level of the government had considered Mr Ramadan's case, he said "upwards in the state department".
The American Civil Liberties Union (ACLU), which argued against a judge's ruling in 2007 that upheld the ban, said foreign scholars should not be excluded because of their political beliefs. "It's disappointing to come here today and hear Obama administration lawyers argue the same sweeping executive power arguments," Jameel Jaffer, an ACLU lawyer, said after Tuesday's hearing. "There should be a clean break of the Bush administration national security policies."
Mr Ramadan, who now teaches at Oxford University in England, was barred under the USA Patriot Act, which can exclude people for supporting terrorism. He said he gave around US$900 (Dh3,300) more than eight years ago to a Palestinian charity, which the US later deemed to support the Palestinian Hamas movement. He was also an outspoken critic of the US-led invasion of Iraq.
A poll by Foreign Policy and Prospect magazines last year put Mr Ramadan, 46, eighth in a list of the world's 100 leading intellectuals. Critics have variously accused him of anti-Semitism, covertly trying to convert the West to Islam or identifying too closely with western values.
In an interview with Canada's Vancouver Sun last month, he urged moderate Muslims to speak up publicly and not allow "dogmatic" Muslims to seize the debate.
He also urged Muslims to develop their spiritual practices according to where their live, rather than importing clergy from Muslim-majority countries. He said the most authentic Muslims were those loyal to both their religion and their country of residence. "We shouldn't just duplicate Pakistan," he said.
A group of academic and civil liberties groups sent a letter to the Obama administration last week saying the ideological exclusion of foreign scholars "compromises the vitality of academic and political debate in the United States at a time when that debate is exceptionally important".
The letter cited the "damage excluding such writers as Gabriel García Marquez, Mahmoud Darwish, Pablo Neruda and Doris Lessing did to America's reputation during the Cold War".
It urged the government to revisit other cases of excluded intellectuals, including Iñaki Egaña, a Basque historian, Haluk Gerger, a Turkish journalist and sociologist, Dora Maria Tellez, a Nicaraguan human rights activist, and Adam Habib, a South African political commentator.
The Obama administration has worried human rights groups for not making a clean enough break with the past on a number of other issues.
A recent New York Times editorial said that government lawyers did not seem to rule out indefinite military detentions for terrorism suspects. "Some of what the public has heard from the Obama administration on issues like state secrets and detainees sounds a bit too close for comfort to the Bush team's benighted ideas," the editorial said. "Mr Obama also should stop resisting an investigation of Mr Bush's policies on terrorism, state secrets, wiretapping, detention and interrogation."
See also Islam Online, 25 March 2009