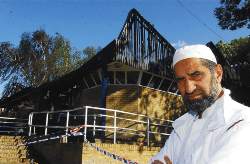 Basildon's Islamic Centre has been almost destroyed in a suspected arson attack.
The fire raged through the Triangle Community Hall in High Road, Laindon, which is leased to the Muslim community group, at about 3.30am yesterday. A large crowd gathered to watch as five crews of firefighters battled to contain the blaze. It severely damaged about one-third of the building, with the roof worst affected.
Sarfraz Sarwar, the centre's founder and leader, said: "We are just lost for words at the moment. The building is completely gutted. The police think it was arson. But my aim is to get this busy place sorted out one way or another, and to keep on working. We are not going to run away or be defeated. We would like to carry on our community services as usual in a small corner of the town."
The Triangle was also used for other community groups. A judo club had been due to meet there yesterday.
The community centre has been the target of attacks ever since it moved into the centre in March last year. Last June, arsonists targeted it twice in two weeks, once drilling a hole, pouring petrol through it and setting it alight, scorching prayer mats, copies of the Koran, new carpets, chairs and books.
Within days, the centre hired a security guard and installed CCTV. However, since then police have been called out to the centre four times, once to an attempted arson attack in which petrol was poured into a doorway.
Essex Police and Essex Fire and Rescue Service have launched a joint investigation into yesterday's fire.
Update:  See "Faiths united in face of hall fire", Echo, 6 September 2006